Most things that sound fancy do not always generate the same awe when experienced. In the world of technology a name or a tagline holds the power to change the course of your traction. AMD at times have emerged as the perfect examples of the same. The buzz that their GPUs make even before getting launched with catchy names has been a constant phenomenon. AMD tried continuing the trend with their "Where Gaming Begins" event and it is paying off. The event dedicated to Ryzen 5000 Vermeer processors also featured high end CPUs like Ryzen 5900X and Ryzen 5950X. The latter will be AMD's premium offering in Ryzen 5000 series and there isn't much available to discuss about it. However, sources have dropped the latest SiSoftware Run scores of the Ryzen 5900X.
Ryzen 5900X Sisoftware Run scores obtained from MSI devices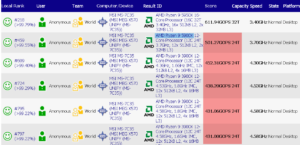 This Ryzen is the second most powerful processor from AMD's initially revealed lot of processors. AMD confirmed after its official announcement on 8th October that this will be a 12-Core, 24-thread processor. It has been designed for A4 motherboard. Pre-booking for AMD's upcoming CPU processor built on 7nm platform has already started in the US. APISAK on twitter  shared the latest scores after Ryzen 5900X was run on SiSoftware. These were recorded for Multi-media and Arithmetic capabilities of the processor separately. As is clearly visible in the list below, MSI devices were used for the same.