AMD set the town buzzing by ambitiously introducing its Zen3 microarchitecture desktop processors, the Ryzen 5000s. The new generation of processors boast of being the best in class as far as gaming is concerned. A direct war cry to Intel, if you may. The latter should not be ruled out just yet. We know with the arrival of Intel's Tiger Lake, advanced Intel Iris graphics are also expected. But we won't go into that rivalry today. AMD kept its online event mostly focused on the "Vermeer" Ryzen 5000 series. However, they notoriously dropped hints of the awaited Radeon RX 6000 "Big Navi" GPU. Latest reports suggest AMD can yet pull another rabbit from their hat to add to Ryzen 5 series. We might be greeted with AMD Ryzen 5 5600 in early 2021. 
AMD Ryzen 5 5600 non-X processor 
Well, we did give it away in the title, didn't we. Quite naturally, the AMD Ryzen 5 5600 will be a toned down version of Ryzen 5600X. The upcoming offering is expected to feature 6 core and 12 threads. Interestingly, AMD suggests that both Ryzen 5 5600 and Ryzen 5600X would perform better than Intel i7 – 10700. By the way, those are some audacious claims considering Intel's is a 8 core 16 thread CPU. The processor is believed to feature a Thermal Design Power of 65W. Harukaze5719, the Korean Leaker says that the option to overclock Ryzen 5 5600 will be available. It is otherwise believed to be only a few hundred MHz slower (Clock speeds) than AMD Ryzen 5600X. The X-processor has a Base clock speed of 3.70 GHz and a Boost Clock of 4.30 GHz.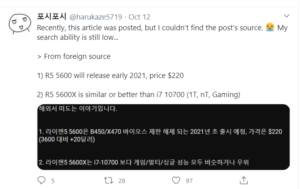 Even though everything does eventually get revealed, tech enthusiasts always remain interested about competitive pricing. Don't tell me you were thinking the same? Well, like we mentioned, AMD Ryzen 5 5600 is due for launch in 2021. We expect it to be somewhere around the time when AMD starts rolling out the AGESA firmware update for X470/B450 motherboards. There are lots of bets going around predicting the price though. The same leaker believes it will be available around $220.