Adopt Me is about to add a really cool feature that will make this game much more interesting. It is planning to add a Voice chat feature in the upcoming update. Here is everything you need to know about the new Voice Chat feature.
About Adopt me
Adopt me is an interactive multiplayer online game by the Roblox gaming platform.  It has a variety of amazing pets that you can obtain from hatching the eggs. You can also shower and feed your pet and also trade them with other players. 

About the new Voice chat feature
Roblox recently announced that it will be adding the Voice Chat feature in the Adopt Me game. This was released during the Roblox investors day after they celebrated their listing on the NYSE stock market. This Voice chat feature will literally allow you to go and speak to other people in the game. That means if you want to trade with someone you can actually go and physically talk to them with your actual voice. This amazing feature will be coming in Adopt Me soon. The reason they are planning to add this new feature is to allow its users to communicate with the community better. So, now you can talk to your friends while playing this game. The rules and restrictions and how this feature will officially work are not yet been decided by Roblox.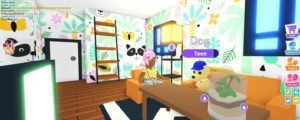 One more interesting fact is that this Voice chat feature will be available in all the Roblox games which are definitely something to look about. The game is doing everything to not get left behind which made them add this new cool feature. 
This feature will be completely optional so it's not necessary to keep your Voice chat feature on. Furthermore, you need to be older than 18 to use this feature. There will be different types of voice chat features. One of them will be the proximity version. The proximity version will allow the users to talk to someone only when you enter a certain radius of that person. So, you actually have to go and communicate with them. The new feature seems quite interesting as you can talk to people and get to know more about them.
Release date
The release date of this amazing feature is yet to be confirmed. It will be optional for Adopt Me to add this feature. That means, if they add this feature and want to remove it in the future, they will have all the rights to do so. The idea of introducing this feature is quite intriguing. So, we are hoping this feature will be released very soon. This is a very large feature that might add a new flavor to the Adopt Me game. Interestingly, the RBLX stock by Roblox which got listed recently made the value of the owners rise up to around 4.6 Billion dollars.
Are you excited to play and talk to your friends in Adopt Me? Then get ready for this amazing feature that will make this game much more interesting.