It was just a day ago when we saw a leaked photo of Intel's upcoming mobile processor, Tiger Lake-H, and today we have another news about the upcoming GPU. A new gossip came rising today as a picture of an unreleased GPU Intel DG2 with a large 8GB DDR6 memory got into the list of specifications of an unknown device. Looking at the specs, the device may be a high-end mobile device or any gaming notebook PC. Considering the fact that, yesterday there was some news about Tiger-Lake-H processors (45W mobile CPUs) with up-to 8-cores, this latest news makes us get an idea of Intel's future plan. The leaked 8GB version of the DG2 could hold 512 EUs featuring a 256-bit memory interface.

As Videocardz, mentioned in its blog post, the DG2 GPU will launch at the minimum of three variants: 384, 512, and maybe even a 960 EU variant. EU means Execution Unit, where each EU comes with 8 ALUs also known as cores. Even so, the possible configurations of Xe-HPG are 3072, 4096, and 7680 cores.
As seen in the picture above this upcoming GPU is combined with yet unannounced Tiger Lake-H series. Other than that, the chip will also be provided with an Intel Alder Lake-P. If the sources are to be believed, this product may launch by the end of 2021 and it will also come with Alder Lake-H and Alder Lake-U series. Contrary to the Tiger Lake-H series, the Alder Lake will feature a brand new hybrid architecture with big and small cores.
We can also get to see a PCB diagram of the DG2 384EU variant on VideoCardz. It comes with a small size of around 189 mm2. The PCB is jammed with several components and maybe it is actually an MXM discrete variant for notebooks. This model of DG2 has 6 GDDR6 memory modules, indicating a 192-bit memory interface.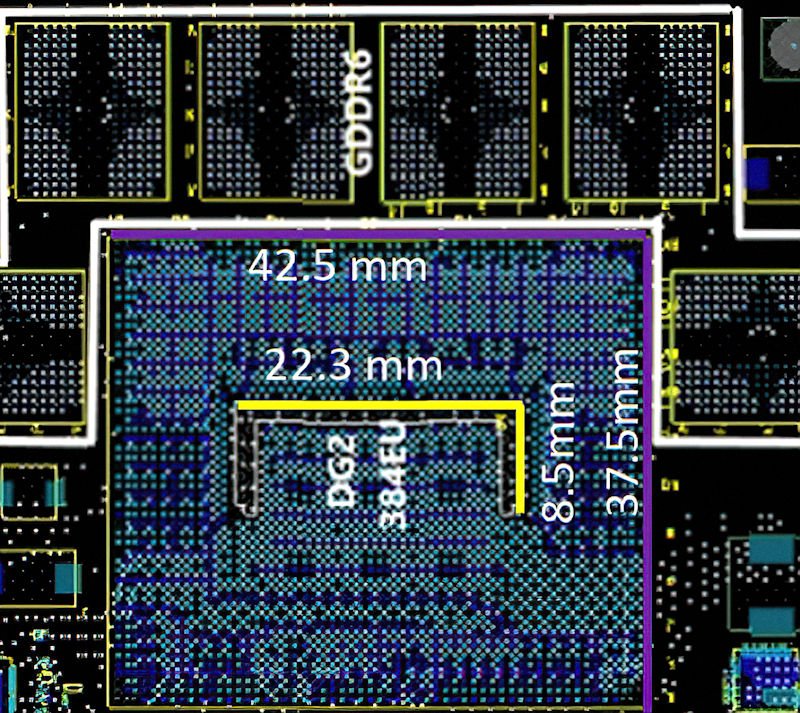 It is more interesting to know that the DG2 could also feature a USB Type-C connector. All the new & recent Intel laptops are now all equipped with a Thunderbolt 4 connector, which is also a type of display connector.
Yesterday, AMD also disclosed that its high-end Big Navi design will also feature a USB Type-C connector, whereas NVIDIA has not planned to bring the USB Type-C (Virtual Link) for its GeForce RTX 30 series.
Source: VideoCardz