ZoHo offers a series of online services targetted at SMBs, inclusing CRM, ZoHo Pages, ZoHo Mail, ZoHo Docs and ZoHo Creator.
Well, Currently Zoho mail servers are down for some users. If you are also experiencing issues with Zoho mail servers do not fret as you are not alone. Check out some of the tweets by netizens:
@momvach1 @zohocares is email down? Our team is unable to access email via the webserver or our computer mail programs (macmail)

2020-02-05 15:56:24
@HammamDiab It seems that @ZohoMail service is down. I've contacted @zohocares and contacted [email protected] but I got no reply so far. is @zoho down?

2020-02-05 15:55:44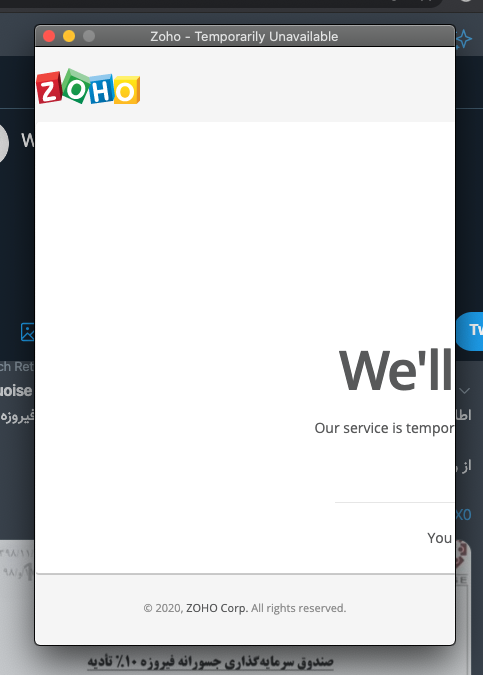 @GoGoGadgetJimbo @zohocares What services are experiencing outages right now? I'm trying to get some AM bookkeeping and emails done, but both my Books and Mail services are down.

2020-02-05 15:37:47
@_MZ_Cons @zohocares dear team we are experiencing problems with @ZohoBooks in Mexico. Zoho Accounts is not enabling us to log in. Could you please look into it?
Down detector – a renowned service that gives details about live outages – also conveys that Zoho mail indeed going through a glitch in some regions as can be seen in the image below:
Any official word on the matter? No, not yet. We're not able to obtain a word from the official service channels or their social media handles.
Rest assured, we're keeping a close eye on all related developments, and will update the story with relevant info as and when we come across any. So in case, you're encountering the issues discussed here, stay tuned for updates.
---
UPDATE :1
Hello! Some of our users are experiencing intermittent issues with our servers. Please be assured that our engineers are working on it. We're extremely sorry. We'll be up and running soon. – Roy

— Zoho (@Zoho) February 5, 2020