The Legend of Zelda: Tears of the Kingdom is a game with a sprawling universe filled with all sorts of items and activities. Hyrule is even bigger in this title when compared to Breath of the Wild. And since it is essentially an RPG at its heart, you will soon realize that you need to be mindful of a variety of things. From the weather that can affect the surrounding areas and the overall gameplay approach, you take to dishes that give you a buff to deal with various status effects. The point we are trying to drive home with this banter is that the game is big and the possibilities are endless. To aid you in this overwhelming world, we have decided to list down all the items in Zelda: Tears of the Kingdom.
Items, in any RPG game, are the materials that players grind for. While some items may be as simple as an ingredient to a recipe, other items can be a boon in the game like a torch to help you see in the dark or a weapon with a high damage output to beat down a particular boss. In any case, these items are essential components of any game and Zelda Tears of the Kingdom is no different in this matter. There are hundreds of items that you may stumble upon in the game. So, keep reading as we provide you with an eagle-eye perspective on all the items and their types.
Zelda Tears of the Kingdom (ToTK) All Items List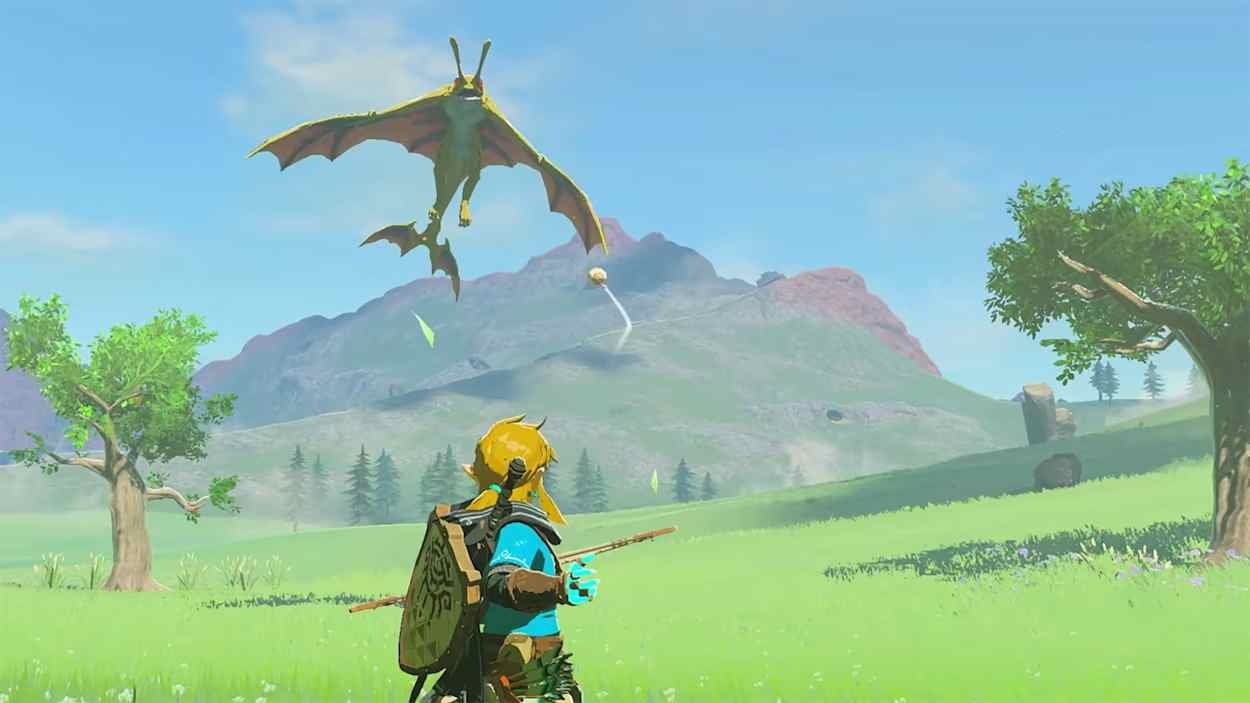 To begin with, items in the game can be categorized into 6 unique categories. This is going to make the sorting of all the items even easier. So what are these item types in the game? Well, the 6 categories are Ingredients, Monster Parts, Critters, Ores, Zonai Material, and other miscellaneous items. Each category and the items belonging to them have been given below! Check them out.
Ingredients
Just like in real life, ingredients in the game too are items required for preparing a variety of dishes. These ingredients can be obtained from either normal exploration or hunting other animals, and if things are desperate, you can also get some ingredients from various shops scattered around Hyrule. Below are all the ingredient items that you can find in Tears of the Kingdom.
Fruits
Hylian Tomato
Ice Fruit
Fire Fruit
Wildberry
Spicy Pepper
Splash Fruit
Voltfruit
Dazzlefruit
Palm Fruit
Golden Apple
Mighty Bananas
Shock Fruit
Hydromelon
Fleet-Lotus Seeds
Apple
Meats
Raw Meat
Raw Prime Meat
Raw Bird Thigh
Raw Gourmet Meat
Raw Bird Drumstick
Whole Bird
Vegetables
Endura Carrot
Swift Carrot
Stambulb
Fortified Pumpkin
Fishes
Stealthfin Trout
Mighty Porgy
Glowing Cave Fish
Armored Carp
Chillfin Trout
Mighty Carp
Sizzlefin Trout
Voltfin Trout
Hearty Bass
Hyrule Bass
Hearty Salmon
Armored Porgy
Staminoka Bass
Ancient Arowana
Mushrooms
Brightcap
Zapshroom
Chillshroom
Puffshroom
Silent Shroom
Rushroom
Endura Shroom
Hearty Truffle
Skyshroom
Stamella Shroom
Ironshroom
Hylian Shroom
Big Hearty Truffle
Sunshroom
Razorshroom
Wild Greens
Silent Princess
Sundelion
Big Hearty Radish
Cool Safflina
Blue Nightshade
Hearty Radish
Bomb Flower
Electric Safflina
Warm Safflina
Hyrule Herb
Armoranth
Swift Violet
Mighty Thistle
Muddle Bud
Seasonings
Fresh Milk
Courser Bee Honey
Cane Sugar
Dark Clump
Goat Butter
Hateno Cheese
Rock Salt
Oil Jar
Chickaloo Tree Nut
Fairy
Acorn
Monster Parts
The next category of items we have is that of Monster Parts. The name speaks for itself. These are items that you acquire after defeating a monster in the game. While some can be difficult to acquire, these monster parts are absolutely amazing once you fuse them with your weapon. The usage does not stop at just fusing it with weapons. Monster parts can also be combined with critters to craft Elixirs. Check below for a list of all the monster parts that you can get in the game.
Gibdo Wing
Yellow Chuchu Jelly
Ice-Breath Lizalfos Horn
Boss Bokoblin Fang
Blue Moblin Horn
Soldier Construct III Horn
Moblin Guts
Black Moblin Horn
Electric Keese Wing
Captain Construct I Horn
Ranger Construct Horn
Gibdo Guts
Gibdo Bone
Shard of Light Dragon's Spike
Light Dragon's Scale
Lizalfos Horn
Frox Fingernail
Electric Keese Eyeball
Electric Lizalfos Horn
Captain Construct III Horn
Lizalfos Tail
Horriblin Horn
Ice Keese Eyeball
Blue Boss Bokoblin Horn
Soldier Construct II Horn
Boss Bokoblin Horn
Lizalfos Talon
Chuchu Jelly
White Chuchu Jelly
Keese Wing
Like Like Stone
Keese Eyeball
Aerocuda Eyeball
Moblin Horn
Moblin Fang
Soldier Construct Horn
Bokoblin Fang
Frox Fang
Octo Balloon
Blue Horriblin Horn
Horriblin Claw
Captain Construct II Horn
Black Bokoblin Horn
Soldier Construct I Horn
Dinraal's Horn
Boss Bokoblin Guts
Fire Keese Wing
Fire Keese Eyeball
Fire Like Stone
Red Chuchu Jelly
Ice Keese Wing
Blue Bokoblin Horn
Bokoblin Horn
Bokoblin Guts
Aerocuda Wing
Ores and Gems
These valuables are only obtained through ore deposits. More specifically, you will get ores and gems from these ore deposits. At irregular intervals, enemies also drop them. Killing a Taulus will significantly increase your chances of finding Ores and Gems. While you can get a good price for these valuables, fusing them with your weapon for extra buffs is the smart choice. With that being said, the ores and gems available in the game are listed below.
Sapphire
Amber
Topaz
Ruby
Luminous Stone
Opal
Diamond
Critters
If you don't know what critters are in the game, then they are all those insects that you come across while exploring Hyrule. These insects, or critters as the game calls them, cannot be used for cooking recipes, but they find their usage in fusing with monster parts to create elixir. The critters in the game are mentioned below.
Hightail Lizard
Sticky Lizard
Hearty Lizard
Sneaky River Snail
Warm Darner
Thunderwing Butterfly
Summerwing Butterfly
Winterwing Butterfly
Deep Firefly
Restless Cricket
Hot-Footed Frog
Sunset Firefly
Energetic Rhino Beetle
Zonai Materials and Devices
Zonai materials are mystical items from the past that act as a source of energy to power up Zonai Devices. These devices are the creative vehicles of the game that you can craft and use to traverse the world of Hyrule. All the Zonai Items and the Zonai Devices have been listed below.
Items
Large Zonai Charge
Zonaite
Large Zonaite
Zonai Charge
Devices
Flame Emitter
Battery
Hydrant
Stake
Light
Shock Emitter
Construct Head
Beam Emitter
Steering Stick
Fan
Balloon
Time Bomb
Portable Pot
Cart
Wing
Spring
Cannon
Big Wheel
Mirror
Miscellaneous and Key items
Miscellaneous contains those items that are one-of-a-kind and have a unique use case. On the other hand, Key items are those items that you cannot equip or drop at your will; these are items necessary for Link's overall abilities. Anyways, a list of both these items is given below.
Miscellaneous
Ancient Blade
Brightbloom Seed
Flint
Wood
Giant Brightbloom Seed
Star Fragment
Hylian Pine Cone
Korok Frond
Key items
Ascend
Autobuild
Bokoblin Fabric
Bubbul Gem
Bygone-Royal Fabric
Camera
Cece Fabric
Crystallized Charge
Demon King Fabric
Egg Fabric
Energy Cell
Fuse
Gerudo-Champion Fabric
Goddess Fabric
Goron-Champion Fabric
Horse-God Fabric
Hylian-Hood Fabric
Hyrule-Princess Fabric
King of Red Lions Fabric
Knight's Bridle
Knight's Saddle
Korok Seed
Light
Light of Blessing
Lon Lon Ranch Fabric
Majora's Mask Fabric
Mirror of Twilight Fabric
Old Map
Paraglider
Pixel Fabric
Poe
Pony Points Card
Princess of Twilight Fabric
Purah Pad
Recall
Rito-Champion Fabric
Sage's Will
Schema Stone
Sheik Fabric
Sheikah Fabric
Sneaky River Snail
Spring
Stake
Sword-Spirit Fabric
Time Bomb
Towing Harness
Travel Medallion
Travel Medallion Prototype
Traveler's Bridle
Traveler's Saddle
Tunic of Memories Fabric
Ultrahand
Vow of Tulin, Sage of Wind
Warm Darner
Zonai Charge
Zonaite
Zora-Champion Fabric
And there you have it, an extensive list of all the items that you can possibly find in the game. Well, that is all the information we have. We hope this list of items was informative enough. For all your gaming-related queries, make sure to check Digistatement regularly. And while you are here, click on this link to know about all the Frozen Recipes in Zelda Tears of the Kingdom.