Another day, another leak. In the world of technology, especially the smartphone industry, even a blink can cost you important updates. However strenuous it may get at times, we ensure that our readers do not have to compromise on quality content. Did I just make us sound like Xiaomi? Always ready to serve its customers with better quality products, Xiaomi is always busy manufacturing another smartphone. They are at it again and we have caught their activity yet again. The model number reads Xiaomi M2007J1SC and Geekbench reveal some inspiring specifications of the device.
Will it overtake Xiaomi Mi 10 Pro?
Popularly advertised as the Mi 10 Ultra, the device has a massive 16 GB RAM. Fueling the Xiaomi handset will be a flagship obvious, Snapdragon 865+ chipset, with a 120Hz refresh rate. The Mi 10 Ultra will go head-on against Samsung S20+ and S20 Ultra. On a slightly lower budget, only ASUS ROG 3 would match these mammoths. If we are to look at the superiority of the specs, clearly this device is the successor to Xiaomi Mi 10 Pro.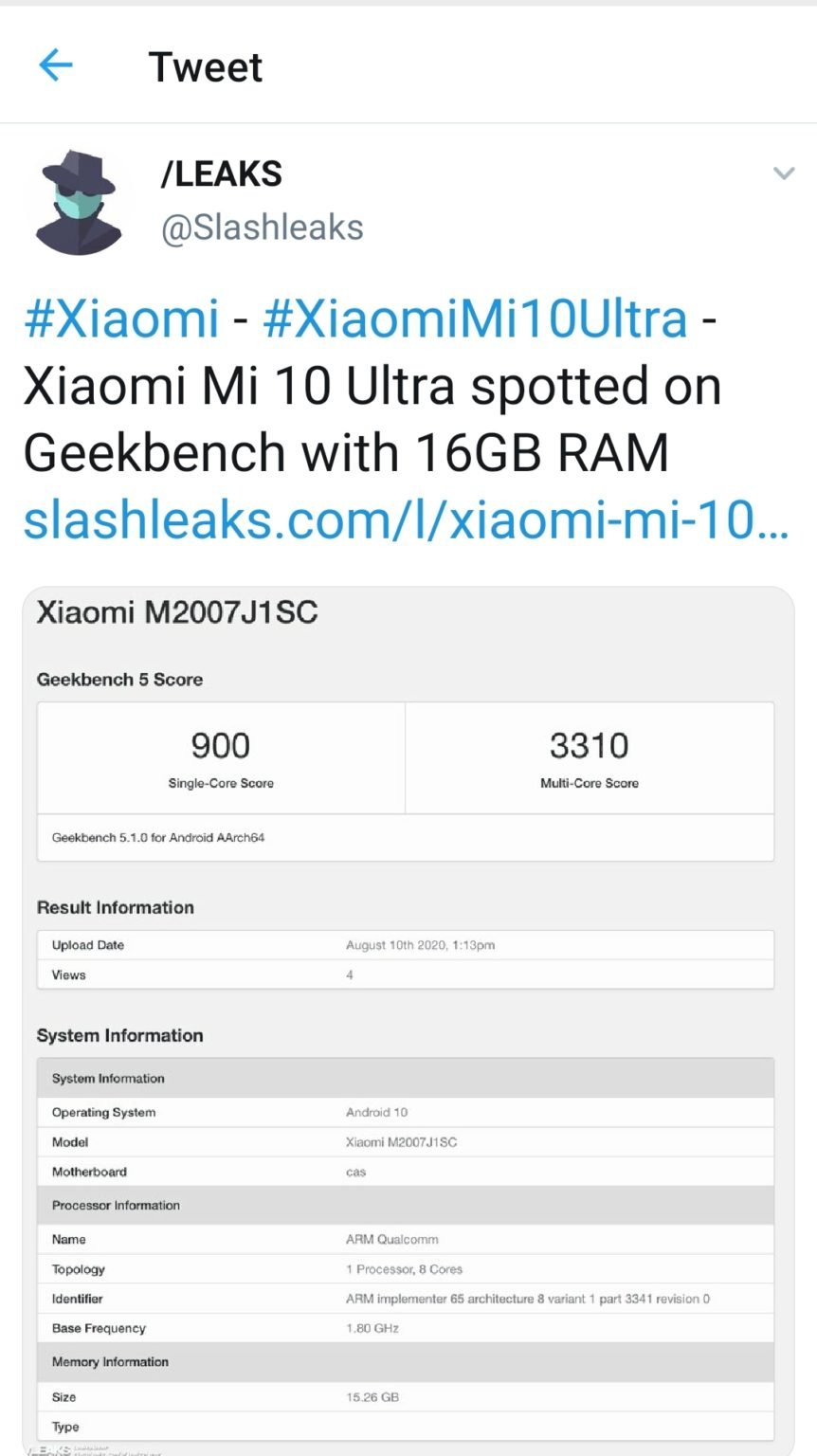 Released back in February 2020, Xiaomi Mi 10 Pro runs on a 2.84GHz octa-core Snapdragon 865 chipset. The top-end variant has 512GB of internal storage and 12 GB RAM. The Mi 10 Ultra will clearly overtake Mi 10 Pro in these aspects. The quad-camera setup from the Mi 10 Pro is expected to be carried after yielding impressive results. The primary shooter is a 108MP with f/1.69 aperture and pixel size of 1.6-micron. The MIUI 12 developers edition based on Android 11 was released towards the start of the month for various top-end Mi devices and Mi 10 Pro is one among them. If the Geekbench scoresheet is to be believed, the Mi 10 Ultra will also run Android 10 out of the box. But, should its launch be scheduled towards the later part of the year, we are optimistic that Xiaomi would be generous enough to deliver us Mi 10 Ultra with Android 11.
Now, we understand that excitement towards such new releases could be hard to control. Look at us, our team at DigiStatement works hard to give you all the updates as soon as they are released in the technology space. Yet, sometimes people can be overwhelmed and lose their senses. Unfortunately, something like this happened with one of the Youtubers who violated his non-disclosure agreement. An unboxing video of the Xiaomi Mi 10 Ultra was released on Youtube and the party in question is now liable to pay Xiaomi 1 million US Dollars. Well, good luck with that Mr.