Founded in 2010 ,the Chinese tech company, Xiaomi is one of the top smartphone manufacturer. The company also makes and invests in mobile apps, laptops,consumer electronics and many other products.
Google launched its latest OS Android 11 earlier this year in September. The new Android operating system unpacks some amazing features like Media controls, screen recorder, Chat bubbles, smart device controls, dark theme and many more.
Initially, Android 11 was only available for Google pixel and OnePlus devices. Vivo V20 is the first smartphone to get Android 11 stable release and still many devices are lined up to receive the new OS update.
We have some interesting news for the Xiaomi users who are very excited to get Android 11 updates. The list of the Xiaomi devices that will receive the latest Android 11 updates has been surfaced recently on telegram channel. Although the list is not officially confirmed by the company, the channel claims that chances of the list being correct is very high. The list was last updated on November 23, 2020.
We are going to share you the list of expected Xiaomi, Redmi and POCO devices that will receive the Android 11 update.
Devices in Open Beta of Android 11
Mi 10 Ultra (Open Beta)
Mi 10 Youth/Lite zoom (Preparing to stable release)
Mi Note 10/Pro/CC9 Pro (Preparing to stable release)
Redmi K30 Ultra (Open beta)
Redmi K30i 5G (Open beta)
Redmi K30/ POCO X2 (Open beta)
Redmi K20/Mi 9T (Open beta)
Redmi 10X Pro (Open beta)
Redmi 10X 5G (Open beta)
Devices in Internal Testing on Android 11
Mi 10T Pro
Mi 10T / Redmi K30s ultra
Mi 10T Lite
Mi Note 10 Lite
Mi 9 Pro 5G
Mi 9
Mi 9 SE
Mi CC9/ Mi 9 Lite
Mi CC9 Meitu Edition
Mi A3
Redmi K20 Pro/Premium/ Mi 9T Pro
Redmi Note 9/Redmi 10X 4G
Redmi Note 9 Pro Max
Redmi Note 9 Pro Global
Redmi 9 Global/Redmi 9 Prime
Redmi 9 India
Redmi 9C/Poco C3
Redmi 9A
Redmi Note 8/8T
Redmi Note 8 Pro
Poco X3 NFC
Poco M2
Poco M2 Pro
Blackshark 2,2 Pro,3,3S,3Pro
Devices that won't get Android 11
Redmi Note 7,7S,7 Pro
Redmi 8,8A,8A Dual
Devices launched with MIUI 9
Confirmed Devices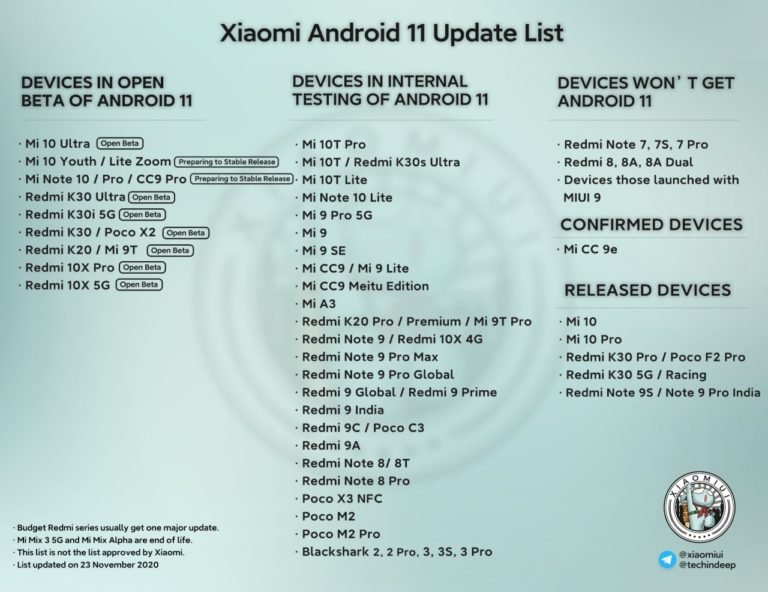 (Source: – Telegram)
(Note: – The list given above is purely based on assumption and there is no any official confirmation from the company)
The exact date and launch is not yet confirmed but we can expect it soon as many Xiaomi devices like Mi 10 and Redmi K30 series have already received the Android 11 update.
We will keep you updated with related posts and content. Do share this article to those who might find it helpful.