New to Mythic + Dungeons and want to progress through the key difficulty in World of Warcraft Shadowlands? The Raider.IO (RIO) addon may become your ally or your worst enemy. Find out how to improve your score with our tips. Coming with Legion, Mythic Plus Dungeons quickly became a major part of the World of Warcraft PvE universe to the point of being more important than Raids for some players. However, the world of M + can be quite frustrating for beginners and casual players due to an addon: Raider.IO Mythic Plus.
We explain here how to increase your Raider.io (or rio) score in World of Warcraft Shadowlands.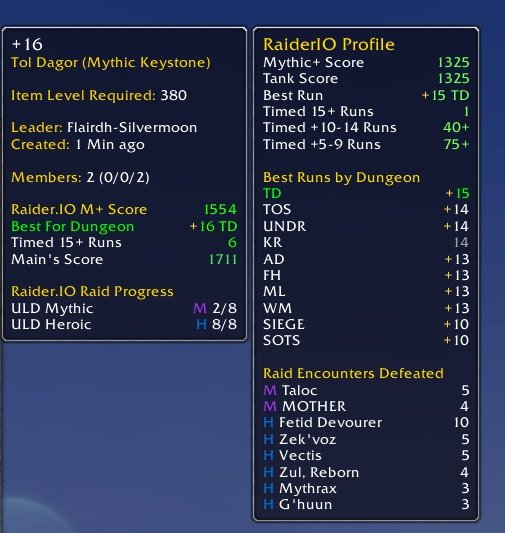 How to work the Raider.io addon on WoW Shadowlands?
Raider.io is an addon that allows at a glance to assess the experience of your potential teammates on each dungeon of the game. Indeed, the addon awards points each time you complete an M + key, contributing to a total score which more or less indicates your level of play in Mythic Dungeon.
Thus, if RIO is very practical for players evolving at a high level, because it allows to sort between those who are used to making difficult keys and others. The addon therefore creates a real glass ceiling for less experienced players. Some will indeed judge a player only according to his Raider.io score to the detriment of his equipment or his experience. It is therefore important to own the addon.
There are several things to consider:
→ Keys completed on time bring many more points, although a large missed key can nevertheless improve your score
→ The addon rewards versatility, it is better to have completed all the DJs in +7 than to have some +9 and the rest in +4 or +5.
→ A better time (via a faster run) on the same key can improve your overall score.
How to increase your Raider.io score in WoW Shadowlands?
Here are some tips and tricks to gain RIO score in World of Warcraft:
→ Multiply certain instances at a low level if you don't know them in order to learn the intricacies of each pack and boss, and thus not miss your timer if your chest gives you a key that you do not master much.
→ Try to complete each dungeon in M ​​+ key. Completing a new dungeon in +5 for example will give more score than passing an already timed key from +8 to +9.
→ It is often better to try a key much higher than the level already timed even if you do not finish it on time. Thus an untimed +10 will give more Raider.io points than a +5 completed well on time.
→ Try to make your keys early enough in the week so as not to find yourself blocked by the instance cap of your server. This is all the more important if you operate on a very populated server (like Hyjal) since very quickly, +10 keys may not be retained by the addon.
→ In addition, if you do not have regular teammates, do not hesitate to add those with whom you have achieved M + in order to create your own fixed group.
To stay up to date on World of Warcraft Shadowlands news, do not hesitate to consult our portal dedicated to Blizzard games.
Follow us for more WOW news and updates.