When you open the Wish app, you will see a vast array of products. This includes 12-foot long pool floaties, whimsical toilet brush holders shaped like cherries and swans, T-shirt with a photo of the Hanson Brothers above the word 'Nirvana" and a few varieties of cord organizers. Most of the products are presented as 80 or 90 percent off their original price. So you are surely getting a discount. In exchange of these bargains, Wish demands patience. The estimated delivery time of your product ranges between two to four weeks.
A longer delivery time means that it gives the marketplace's vendors time to ship their products from countries like China, Myanmar and Indonesia. Wish claims that in 2020, it saw its revenue double in comparison to 2019. It was around $1.9 billion. The company earns money by taking a 15 percent cut of each sale. It also collects fees from sellers in exchange of promoting their products. Wish has raised $1.3 billion since it was established in 2011 and its last funding round in 2017 was valued at more than $8.7 billion.
Wish is also known as one of the world's most downloaded e-commerce app of 2018. It had around 161 million installs globally according to a data from Sensor Tower.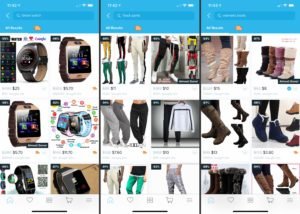 Now recently users have complained about an issue related to the app. Users said that they are not able to load their list of products. Users have complained that they are not able to see their choice of product because of this error. If I have to elaborate this issue, whenever users try to search their favorite product on the app, the page keeps on loading and at last, it does not show up the list of products. Let me tell you that in this situation, the problem can occur even if your internet connection is good.
Users have complained that the page keeps on loading and at last the page either shows that there is some connection error or the request failed. Some also said that the app and their phone freezes at a point of time because of this issue. There has been no official statement from the developers of the app on this issue. They have not yet mentioned anything on how to resolve this problem.
For now, all you can do is try to search for your products after a few minutes or hours. There might be some internal server issue and it is being fixed. Also, you can try uninstalling and reinstalling the app. This solves the app issues for most of the time.