Recently, Windows 10 Insider Preview Build 21286 has been released for all the Windows Insiders in the Dev Channel. And now moving forward in 2021, all of the insiders will receive this one build further.
There are a lot of new things in the latest Build 21286 and one of all those features include the addition of news and interest of the users on the taskbar itself. This is a massive benefit as now the users will be getting immediate access to all the dynamic content that's out there in an integrated form of a feed, including the kinds of stuff like news and the weather updates throughout the whole day.
Although, it's a very cool feature, it's only available for the Windows Insiders in some specific countries right now, and those countries are Canada, United States, Great Britain, India, and Australia. This feature also requires the users to have the new Chromium-based Microsoft Edge browser pre-installed on their computer.
The feed that will be displayed on your taskbar, can be freely personalized with properly tailored content that you want to see there. And now, instead of surfing through the search engines or apps on your PC or Smartphone just to stay up to date with whatever's happening around, it's all available to you just a peek away from your taskbar, at any time of the day you want.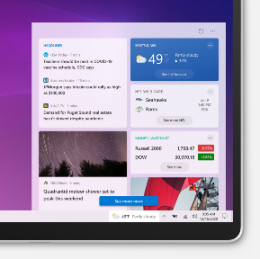 Best Uses for this feature
Being up to the minute: Take a peek at your taskbar and everything's present there, be it the news or your interest, all available to you directly from your taskbar. Take some break between your work and get caught up with all the latest news regarding your favorite topics and once you are done, go back to doing your work again without breaking the workflow. You can also use the function of streamlined reading view for reading an article, this will help you greatly in saving your time and staying focused too.
Feeds can be personalized: You can easily manage the content that you would like to see or not see on your taskbar as the feeds for your daily updates. Let's say if you like a story so select the "More options" button and choose either "More stories like this" or "Fewer stories like this" to manage them accordingly. And with time, you will have the stories that you genuinely care about and will have a great experience.
Be in control: Privacy is quite a prime objective of Microsoft, and the company does it in this feature but putting you in control. With the help of news and interest, the users can easily access the Microsoft Privacy Dashboard, and also the Edge browser has a built-in control system to limit tracking from the advertisers and third-parties. You can also turn off the news that doesn't appeal to you just by right-clicking on the taskbar.
This is a great feature as many of us spend most of our time from PCs to various kinds of uses like to work, learn, play and even connect, and now all their interests and news will be displayed directly on their taskbar, thus saving their time and striving for them to be more productive.