Security, privacy and user data as the most important things to be taken care of when we store about our life on electronic gadgets, especially laptops/ PC. Hackers sit behind screens waiting for a chance to break through our private space and it seems like an alert being newly ringing around which has a lot to do with Coronavirus.
The world's completely in a panic mode as the internet floods news about the massive spreading of the disease. But can this be a reason or allow someone else to take advantage of the obsession that we have over tracking details about coronavirus regularly? "Yes" seems to be the answer!
AZORult Malware-
Before informing about how hacking is linked with coronavirus, we would like to provide you some basic information about AZORult malware. AZORult malware has been around as a threat for four years now. This malware is used to steal user information from a PC and acts as a dropper for other malware strains.

This malware-virus is specialized in gathering sensitive information from infected electronic machines. This malware is widely used by cybercriminals as they neatly try to slip it into our gadgets in numerous ways. This malware is not limited to perform a single kind of criminal activity, hence widely affecting the following- standard credentials, bitcoin wallets, chat platform history and messages, and also while trying to install third-party apps or even attempting to try and get their access.
Fake Coronavirus Map-
Johns Hopkins University currently holds a research center for Coronavirus and has been working on a map that scales the countries affected by the virus and the massive spreading of the same. But who would have known that hackers would enter the game by creating a similar map under the same name, but for a different reason?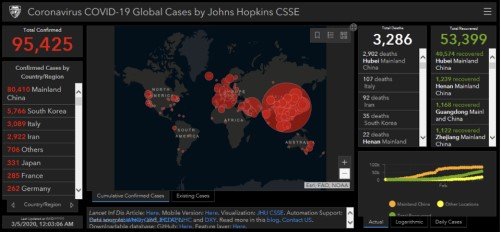 Hackers have created a fake coronavirus map, replicating the Johns Hopkins researched map that owns a ".exe" extension. Do not download or try to access these types of files until and unless you are sure about which one being the original. Don't forget the fact that users don't need to download a file to risk their gadgets. Accessing into sites with malware or threats are more-than-enough to get yourself into trouble.
Stay away from the fake map-
It is okay to research and stay aware of the deadly disease, but wrong sources are equivalent to the disease itself, which can drastically affect your PC. Here are some things you need to keep in mind before you live-track the spread of coronavirus across the globe:
Do not download any file of the name Johns Hopkins Map unless it is from the authentic site.
The ".exe" files are the primary ones loaded with the malware. Make sure that the site is "secured" before installing files.
Always try seeking information from authentic services, health centers, and sites designed specifically to educate people about the deadly calamities happening around.
Rest assured, stay safe and aware while surfing the web. Stay tuned to receive more updates and news frequently. Also, share this article with as many people as possible to spread awareness