The arrival of Ryzen 5000 CPUs promises to usher a new era for AMD. The company plans on unsettling Intel, its biggest rival in single processor gaming capabilities. Currently we know there's four SKUs listed by AMD waiting for release in early November. Meanwhile, a lot of motherboards will receive BIOS updates in order to provide complete support to Zen3 architecture. ASRock was the first to announce the updates based on AGESA firmware coming to its 500 and 400 series motherboards. All that has become more clearer after the online launch event. Otherwise, AMD just thrusted us into the launch of new Ryzen 5000 CPUs with most leakers left speculating. One more doubt that has been clarified post launch is that the AMD Ryzen 5000 CPUs are indeed codenamed "Vermeer".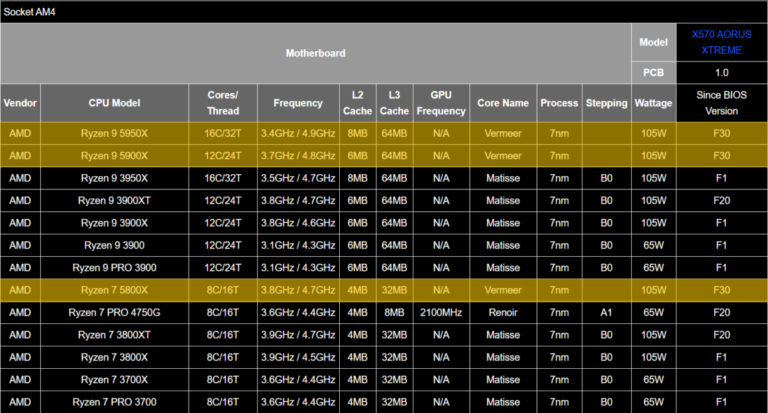 Enter "Vermeer", Ryzen 5000 gaming CPUs
AMD has always been impressive in the way they go about naming both their CPUs and GPUs. Although Vermeer was popularly hailed as the new codename for Ryzen 5000 CPU series no solid confirmation was available. That has been resolved now courtesy GIGABYTE's CPU support list that features Vermeer. The best motherboard in GIGABYTE's 500 series, the X570 AORUS Xtreme requires F30 BIOS update to support Zen3. Previous gen X470 and B450 motherboards will receive the BIOS update too, but not before early 2021. The 500 series AMD motherboards will require a BIOS with AGESA 1.0.8.0 or newer. The likes of ASUS and MSI have also over past couple of months updated their motherboard range to suit Zen3.  The Red brigade is also waiting for November's unveiling of Ryzen 9 5950X and 5900X.