Verizon offers mobile and landline communications services, including broadband internet and phone service, is currently facing an outage at many locations.
Many users are experiencing internet issues & they have taken the route of Twitter to express their concerns & ongoing issues. Have a look at a few comments down below.
@jakbkwik @bryson_drew @VZWSupport Not yet, they've claiming they know nothing about a service issue in our area. B.S. ?

2020-03-03 14:42:21
@AndrewSights @VZWSupport @bryson_drew Please hurry back, kind service person. Fellow Verizon customer here in the same area also experiencing no service.

2020-03-03 14:38:28
@lisahayes4 @Riley_Mahaffey Yes, I'm good, thanks for checking. No Verizon cell service but my wi-fi is still working. ??

2020-03-03 14:34:43
@bryson_drew @VZWSupport Indoor and outdoor. Not receiving calls or test. Not internet connection. Issues seen and Chattanooga, Nashville, Knoxville. Figure storms effected cell towers.

2020-03-03 14:28:16
@kimaholcomb @VZWSupport is there a problem with service in Chattanooga TN. Our phones are saying No Service

2020-03-03 14:24:49
@CAROLH423 @verizon I am having outage problems can't get into networks. Is it just me?
Also, a popular outage tracking website Down Detector confirms that there are some technical glitches with Verizon right now.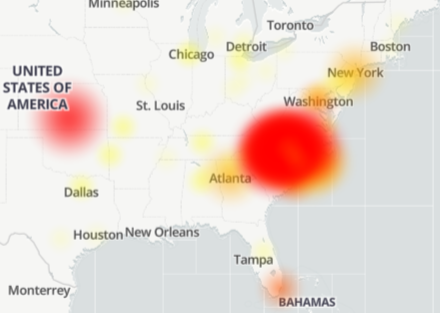 Any official word on the matter? No, not yet. We're not able to obtain a word from the official service channels or their social media handles.
Rest assured, we're keeping a close eye on all related developments, and will update the story with relevant info as and when we come across any. So in case, you're encountering the issues discussed here, stay tuned for updates.
---
UPDATE : 1
Verizon is currently experiencing a wireless network issue in your area. Our technicians are aware of this issue and are working to resolve it quickly. ^LCP

— Verizon Wireless CS (@VZWSupport) March 3, 2020