Robinhood app is down again and not working for many users after a massive outage yesterday. If it is not working for you. Fret not, you are not alone as many users are also facing the same issue.
Several users have taken the route of Twitter to express their concerns regarding the ongoing outage & issues. Have a look at some of the complaints down below.
@saifolosha @AskRobinhood No it's not. It's not working properly again. This has been a horrendous customer experience and reimbursing $15 worth of Robinhood Gold isn't the answer.

2020-03-03 15:12:27
@UTwashe @AskRobinhood @RobinhoodApp Nah looks like you're still down for some users. Day 2. Folks might be ok with downtime but the communication is terrible. Why am I getting Robinhood snacks before downtime updates in my inbox?

2020-03-03 15:12:12
@hodlonion #robinhood you're doing it again.. yesterday 1100 point rally my capital was held hostage due to your negligence. Today I received an Email from you guys promising this was fixed. Yet and still @federalreserve cuts rates today stocks soar & @RobinhoodApp decides to crash again

2020-03-03 15:12:10
@knife_falling #robinhood @KellyCNBC Robinhood still down! More than 24 hours now

2020-03-03 15:12:01
@MadBlackPoet Robinhood still offline??? ????

2020-03-03 15:11:52
@shashan82928556 @AskRobinhood It's still down, unable to place order for selling #robinhood #loss
An outage tracking website, Down Detector also confirms that the Robinhood website is indeed going through some glitch & outage in several locations. Have a look at the outage map down below.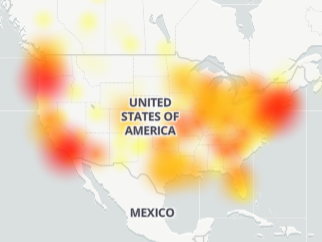 So far, there has been no official response from Robinhood officials. But we certainly hope that their team is looking to resolve these issues at the earliest.
Rest assured, we are keeping a close tab on all the developments regarding this issue. Whenever any update or fix arrives for the same, we will update the column.
Let us know below in the comments if you are also encountering issues with Robinhood.
---
UPDATE: 1
Our systems are currently experiencing downtime. We're determined to restore full functionality as soon as possible. We'll be sharing updates here and on https://t.co/ZS733Gooqj.

— Robinhood Help (@AskRobinhood) March 3, 2020
The outage was not caused by a failure to code for the leap year. We had instability in a part of our infrastructure that allows our systems to communicate with each other.

— Robinhood Help (@AskRobinhood) March 3, 2020