Verizon, the company that offers mobile and landline communications services, including broadband internet and phone service, is currently facing an outage at many locations.
Many users are currently experiencing issues with calls. Several of them are complaining that calls keep failing & dropping. Many users have taken the route of Twitter to express their concerns to Verizon Wireless. Have a look at a few complaints down below.
@PraiseTheLors Is anyone elses service down for Verizon?

March 17, 2020, 12:29 p.m.
@Dan_Neuenfeldt @VZWSupport @TaraBethIdaho I am also a Verizon customer and am experiencing no service in Moscow. Can't even send a text.

March 17, 2020, 12:27 p.m.
@therealdavjd @VZWSupport Cocoa Beach. No service and can't call in to 611 support either.

March 17, 2020, 12:17 p.m.
@HEMI_71 @VZWSupport is there any service issues in the Moscow, Idaho area? The service for me keeps going between Extended & No Service, and this hasn't been an issue before until last nights

March 17, 2020, 12:16 p.m.
@Diggernutz79 Verizon must be having some issues. I always have great service. But in the past 20 mins.. its been between no service and 1 bar. Not a fam of this wifi stuff??
---
Down Detector, an outage tracking website, also confirms that Verizon is currently having server issues & technical problems. Have a look at the current outage map down below.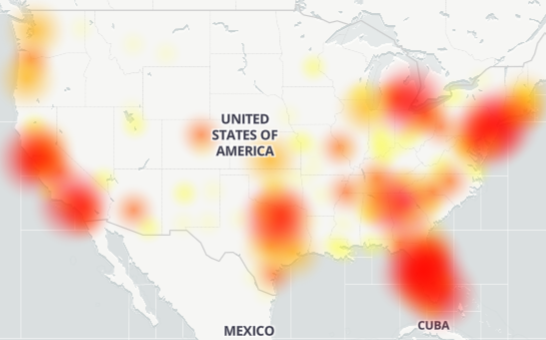 Verizon has officially responded to several customers regarding the ongoing issue. However, they have not made any official announcement on their Twitter handle yet. Have a look at a tweet where Verizon has addressed the user problem.
Rest assured, we're keeping a close eye on all related developments, and will update the story with relevant info as and when we come across any. So in case, you're encountering the issues discussed here, stay tuned for updates.