T-Mobile the company which offers mobile phone and mobile internet service, including text messages (SMS) and voice mail, to individuals and businesses are currently facing an outage at many locations.
Many users are currently experiencing issues with the Internet and reporting that their internet is not working. Have a look at a few complaints from users.
@angelicrequiem @TMobileHelp #TMobile Cell service down in Daytona Beach, Florida area! 🙁

March 17, 2020, 12:10 p.m.
@RobertJDeLisle @TMobileHelp Whats up with your service in Eugene? I've had no service all morning

March 17, 2020, 12:02 p.m.
@Spock28109 @TMobile I have an outage where I live. I had to leave to be able to message you guys this.

March 17, 2020, 11:27 a.m.
@simpleperspects Thank you @TMobile for working with your customers through this financial crisis. If you have Tmobile, call in to see what options you have if you are not able to pay your bill on time.

March 17, 2020, 10:53 a.m.
@EymiWithAnE @TMobile I have no cell service.. can't make calls or send texts!

March 17, 2020, 10:40 a.m.
@allen_datone4 @SievertMike @TMobile T-Mobile update: sitting here in Clarksville, GA. AT&T= 1 bar LTE T-Mobile = NO SERVICE

March 17, 2020, 9:32 a.m.
@TheLovelyMsLove @TMobile are you guys handling any metro by T-Mobile customers? I am not able to reach anyone they have a nationwide outage.
---
It seems like the T-Mobile issue is widespread as outage can be observed at many locations on the outage tracking website, Down Detector. Have a look at the current outage map down below.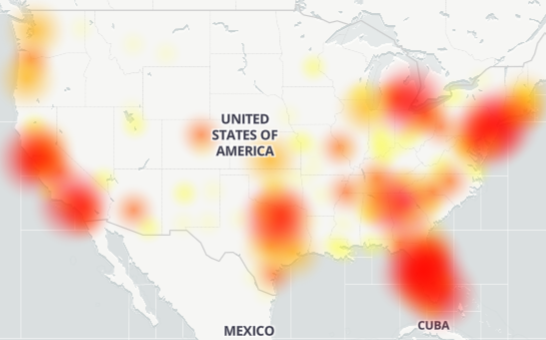 Rest assured, we're keeping a close eye on all related developments, and will update the story with relevant info as and when we come across any. So in case, you're encountering the issues discussed here, stay tuned for updates.