Gaming has taken over the world. Dozens of streaming platforms have risen over time. Also, gaming encourages social networking, withing the application for easier communication. But all of this takes a toll on health and privacy. Where things are hard to reach an individual or exploit oneself online, gaming platforms work the opposite. It is very easy to reach a person via gaming communities. It is easier to draw attention through the same. Therefore, Valve has launched something that is not just strict but might change the entire gaming community.
As the title says, Valve quietly launched the Alpha (test) version of censored Steam Client in China. Hence, here we are with an article about all that you need to know about it.
Valve Censored Steam Client Details-
China flexes an active gaming market with a huge gamer base. Valve has severely worked with China's steam client to produce a safer gaming means. The new features of the Alpha test version of the censored Steam Client are complex and involve a lengthy procedure. Check out the features below.
Healthy gaming advisory when starting a game
The start of a game usually takes you right to the main page designed by the game to start matching or related screens. But the Alpha version of censored steam exclusively launched in China now takes it over. The start of the game will, from now, show a health advisory note. It reads the following message as shown in the image.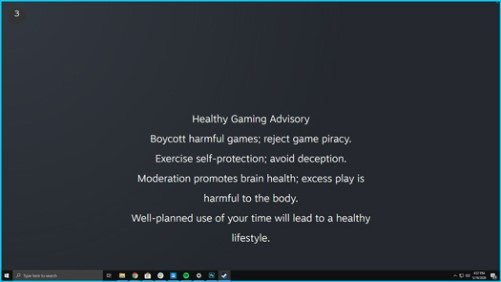 First of all, the given note is not only about a gamer's physical and mental health. It strongly stands for a good gaming environment by restricting pirated games and related methods of getting gaming access. It also reminds gamers about time consumption and a healthy way of utilizing time.
Steam China censors profile picture, name, and avatar
Gamers' profile will completely be censored now. The profile picture/ avatar of a user is now hidden and replaced by a question mark. The in-game name is hidden too and replaced with a numerical gamer ID.
The desired name and avatar of gamers in China will now go through a process of check by an official government body of China. Others will be able to view the name and avatar of gamers only when they are approved by the board. Till then, the gamer ID will be the only means through which users will be able to add each other in China.
Time limit
Gaming gives such immense pleasure and relaxation that one can lose track of time. Censored steam of Chine now implements a gaming period after which you cannot play. Gamers can no longer play between 10:00 PM to 8:00 AM. Refer image below.
This is just the beginning of strict rules being implemented in China regarding gaming. Youth sinking in the joy of gaming can define the future of a country. All night gamers might have to forget pushing rank at nights! Above all, these measures are to put a stop to unhealthy gaming practices and wasting an endless amount of time and money over a virtual world.
Rest assured, we post related content and updates every day, so stay tuned. Also, share this article with all the gamers out there!