These are dark times for Valorant cheaters as Riot Games' anti cheat program 'Vanguard' finished banning nearly 9,000 cheaters as of today.
Valorant has been in closed beta for sometime now and Riot has been busy and heavy committed towards developing a game with no cheaters or hackers. This past week, Vanguard – Riots anti cheat program reported and got 8,873 players banned, with cheaters recieving Valorant account bans and hardware bans. This was confirmed via a tweet from Riot's anti cheat developer Phillip Koskinas. In the tweet, he made a statement that "This is only the beginning."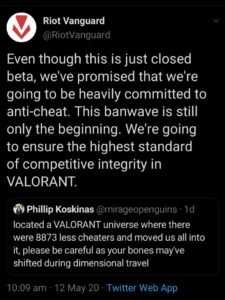 Koskinas added "located a VALORANT universe where there were 8,873 less cheaters and moved us all info it, please be careful as your bones may have shifted during dimensional travel." This statement clearly represents how the Devs are heavily inclined towards clearing the platform from any suspicious user.
Over the past few weeks, Vanguard has been a centre for controversy regarding user privacy and data security. To understand this, first we need to discuss how Vanguard works. It is an anti cheat that is designed to hunt for players that tamper with the game using hacks. Usually, these hacks are superficially located on your operating system, but due to the nature of some cheating softwares that operate on a high level of Window's permission, Vanguard is designed to go even deeper to root then out. In order to do so, Riot designed Vanguard to launch as soon as your computer boots up. This was first pointed out in a Reddit post on r/VALORANT and since then it has rose suspicion among players that this might give Riot more access to their computers.
To counter, Riot told the players that Vanguard is designed to simply look for the presence of cheats on your operating system and not mess with private data.
Though this suspicion is still present, Riot is still working on ramping up it's anti cheat under anti cheat program leader Paul Chamberlain. For now, Vanguard is operational only for Valorant but it will see more usage for other games in the future. Hopefully Riot clears doubts in the community too.