Every Valorant fan has their own share of bugs they've encountered during their gameplay like server disconnection, glitches, voice chat issues, and lastly error code 128 that's very bothersome to tackle. The 5v5 tactical shooter often features bugs from newer updates and these unresolved bugs often get overlooked by the devs. Error Code 128 in particular completely restricts the player from launching matches in Valorant and makes them unplayable. However, we've listed a few fixes that'll help you solve the issue. Continue reading the article to know more.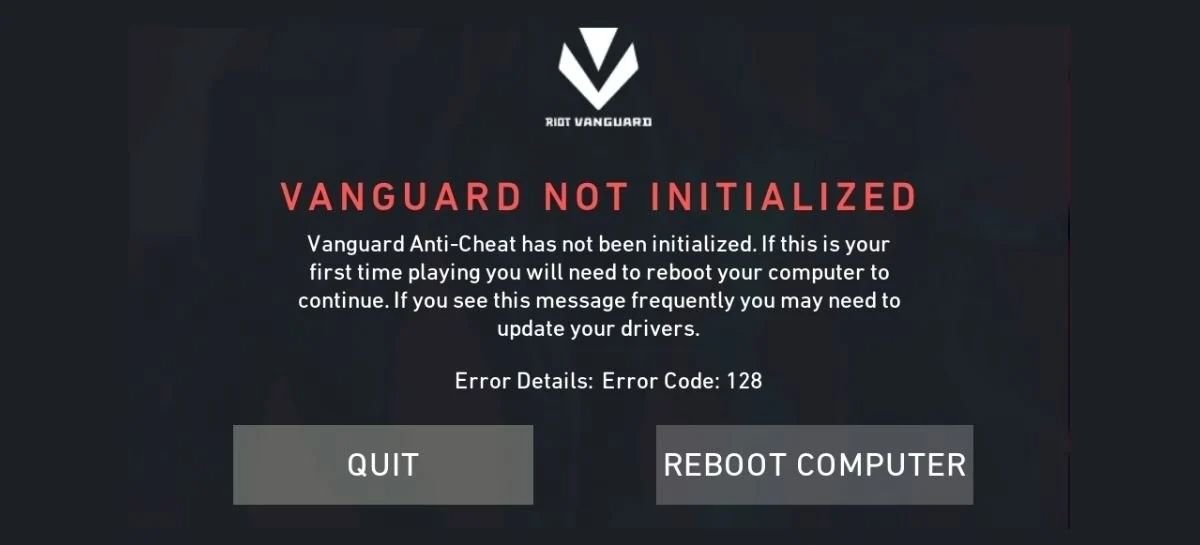 How to fix Error code 128 in Valorant?
The reason why you're seeing error code 128 is because of Vanguard's anti-cheat system that the game employs to prevent cheating. It is bound to the deepest part of your operating system and having issues with it can often fetch you this error. Below we've listed a few things that'll fix the error code 128 and let you play matches normally.
Restart Riot Client
Riot Client manages the game and the first thing you should do is restart the Riot Client as the devs also recommend players do this. To restart it, launch the Task Manager by pressing Ctrl+Shift+Esc. In the Task Manager, click on the processes tab and locate the Riot client. Once you do, right-click on it and then click on "End Task" to close the riot client.
Reinstall Vanguard
Many users have reported that reinstalling vanguard seems to have fixed most of the errors in Valorant, including error code 128. Follow the steps below to reinstall vanguard.
Make sure that the Vanguard is not running in your background and close it using task manager as the above method.
In the search bar, type "command prompt" right-click on it, and select "Run as Administrator"
Type the following commands one by one
"sc delete vgc", press Enter key
"sc delete vgk", press Enter key once again
Restart your PC.
Once your PC boots up, go to This PC and locate the Vanguard folder which should be located in the C drive ("C:\Program Files\Riot Vanguard").
Once you've found the folder, right-click on it and select "Delete".
Launch the game client and this will install the Vanguard automatically. Once it's done, restart your PC and it will be fixed.
Change VCG startup type
VCG service is the most integral service of Valorant and if there are any issues with it, the game refuses to load and can fetch error code 128. Here's how to fix it.
Press Windows key + R to open the run dialog and type "services.msc" and find vgc service, Once you do right-click on it and select "Properties".
In the startup type option, choose "Automatic", click on start and then click on "Apply".
Restart your PC and the error code 128 in Valorant will no longer show up in the game.
Install the latest PC drivers
If you've tried everything and are still getting the error code 128, then the issue likely resides with your PC drivers. Make sure to update your graphics card drivers to the latest ones from the original manufacturer and see if it fixes the error code 128.
Reinstall the game
If nothing worked for you, then consider reinstalling the game to fix Error code 128 in Valorant. For more such articles on Valorant, make sure to stay tuned with us on DigiStatement.