Valorant, the brand new FPS from Riot Games, offers three cards in the beta at the moment. Follow the guide to find out all the information about the Bind map, its positions and the names of the different poses on the map.
Three maps and I tell you they look very cool! The closed beta dawned upon us yesterday and with it came Bind, Haven and Split. Bind among them has got a very positive reception and we are here to make a guide of it for you.
Regarding Bind, which you can observe below, the positions seem perfectly understandable despite some new ideas like the portals. We find the classic spawn zones, long corridors, the repeated doors and the main action points A (Cargo) & B (tetris), the bomb action points that will see most gun-fights in the game.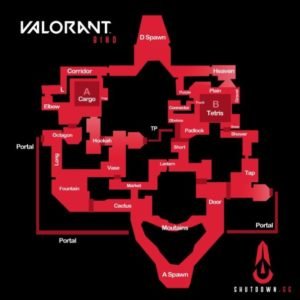 The A-spot will be covered by two players, one player covering the long exit and another one covering the window exit. In B, the shower will be covered by Heaven, the preferred mode will be aggressive stance or hand to hand combat. The mid will be held or pushed by two players who will change their position according to the assault that's launched.
With the B's long portal on the A-side of the map, it can lead to some interesting manoeuvres. A direct entrance to the shower lets a closed assault possible. Side A the possibilities will be more limited and especially more focused "hand to hand" with a T to take in the mid and L of the shower leading to a long line which can be disabling depending on your weapon.
The B will prove more easier to cover as it smaller than the B side. The two gates can be used for storing weapons in case of a detonation spike.
Callouts in Bind Map
Familiarizing with the spots and the names help you get comfortable with the map. The Bind map callouts go like this:
A Site Callouts
A Site
Long A
Short A
Cubby
U Halls or Lamps
Heaven or A Tower or Window
Connector
Teleporter
Showers or Bath
Lobby
Link or Mid
B Site Callouts
B Site
B Hall
Long B
Hookah or Window
Short B
Teleporter
B Lobby
Elbow
Garden
Best Characters in Bind
Phoenix– Curveballs at corners. What more do you need to say?
Brimstone– Versatile hero good for every map because of his ability to smoke different locations at once.
Viper– Chokepoint abilities and diversion in fights makes him a good hero for the map too.