Samsung is a company that has excellent products in every category. Not only do they have amazing products but their after-sales customer experience is also great. Samsung is the biggest  business conglomerate in Korea. The company was founded by Lee Byung Chul as a trading company in 1938 and as of 2020, the company has 8th highest global brand value.
Samsung makes some great home appliances like kitchen appliances, washing machines and more. The company's washing machine category has a variety of options ranging from semi-automatic to fully automatic machines. These are available at a variety of prices depending on the sizes of the machines. Today we are going to give you solutions to some common errors that you might receive while using Samsung washing machines.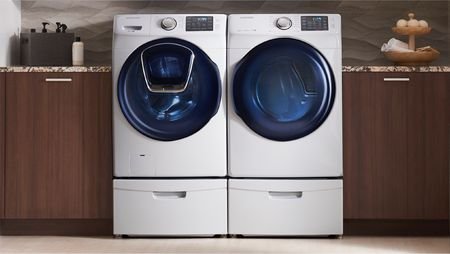 UR/UE Error Code
This error code means that the current load in the tub is unbalanced. UR means Unbalanced load & Retry. This means that the washer is going to add more water to balance the load and try the spin cycle again. On some models this shows as  'dc' error code but it has the same meaning, so check your user manual too.
Cb/C6 Error Code
This error code appears when the machine is under calibration mode. The machine is recalibrating its weight detection. This helps the machine adjust how much water is required for the spins. This process will take 1-3 minutes and then it will be ready for use.
Dl/D5 Error Code
This error code tells that the door is not detected as closed and locked. To fix this, make sure that the door latch is securly closed and laundry or others items are not caught in between.
1E/LE Error Code
This error code appears when moisture is detected in the washing machine's body, where it is not supposed to be. To fix this, first of all check for a leak, filling the leak would solve this issue. Also check the hose behind the washing machine and whether it is fitted properly or not.
nd/SE Error Code
This error code appears when the machine is not draining properly.
We hope that the solutions to these error codes will help you fix your machine's issue. If not, you can contact Samsung's Customer Service or check this website for fixes to other error codes.