The famous Tom Nook from Animal Crossing is considered the baddest character in video games of 2020. Yet harmless, his love for money has certainly failed him… Who would have thought one day that a character from Animal Crossing will be voted "best villain"? In any case, that's what the Game Informer magazine reports! According to them, even if Tom Nook does not kill, insult or terrorize players like in a horror game for example, the tanuki still has good qualities to be THE villain of the year 2020.
2020: the year of all records for Animal Crossing
With the release of Animal Crossing New Horizons in March 2020, the license's new installment has literally exploded in sales and has been top 1 several times in some countries. With its colorful graphics and irresistible way to create a life in paradise, it has become the perfect companion during lockdown(s) and a true source of happiness for players around the world.
Almost a year later, the game on Nintendo Switch is still talking about it and many people are still discovering it today. Multiple free updates are added regularly and then make veteran players want to test them. Many features have not yet been integrated into New Horizons but will soon be included!
In short, it makes sense that Animal Crossing is on everyone's lips again this year, and Game Informer may have been right to elect Tom Nook as the "best villain 2020". But let's take a closer look: what is Tom Nook so cruel about?
Tom Nook: such a cruel character?
This is just a vote of a few Game Informer reporters, but it's true that a lot of gamers also consider Tom Nook a mean, greedy character and a little too close to his money. Here are the exact reasons that prompted the magazine to elect Tom Nook as the best villain of 2020:
This true real estate king from Animal Crossing: New Horizons sells you the dream of building a new life. Then it just forces you to do all the work needed to bring the island to its greatness while taking every step of the way to get there. He's the capitalist you love to hate, constantly reminding you that hospitality comes at a price and you always owe him your loan.

-Game Informer
It is true that in the various Animal Crossing opuses, Tom Nook is only there to make us work, expand our house and make us repay our loans. He is often considered a capitalist but he is far from being a crook like his sidekick Redd can be. And yet, Tom Nook is sometimes wrongly judged!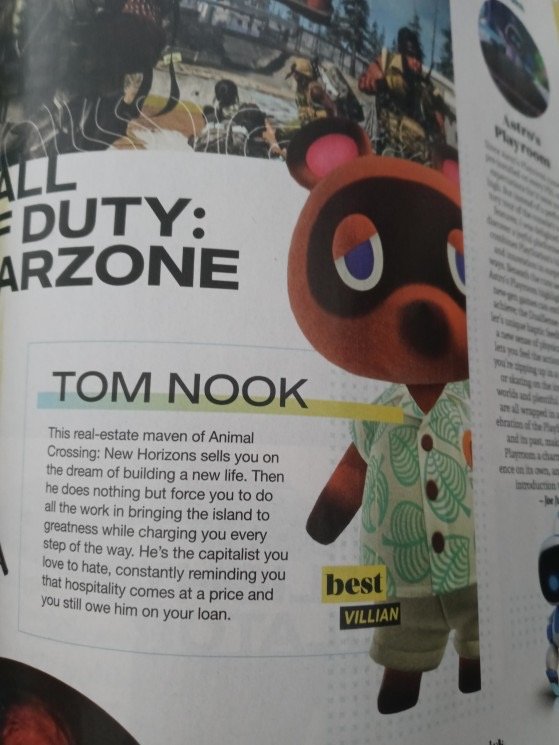 Via an interview with The Verge , director Aya Kyogoku and game producer Hisashi Nogami explained that gamers had an unfair view and that Tom Nook was in fact misunderstood! They then defend their character by assuring that he is "a good guy", "very attentive" and "really brilliant" and that he is not greedy but simply careful with the money!
Aya also adds that without Tom Nook and the debts to pay, players wouldn't have as much of a good time in the game fishing, capturing bugs and digging up fossils to earn money.
So What is the reality of Tom Nook? Follow us for more gaming news and updates.