The hype about new Tom Clancy's Splinter Cell game is enough to see why everyone applause the series. Today, when Ghost Recon announced that Sam Fisher is coming as a playable character in a new Ghost Recon Breakpoint adventure, it sparked the hype once again, and it happens every time, whenever Fisher is mentioned.
Sam Fisher returns in a new Ghost Recon Breakpoint adventure on March 24. Stay tuned for more intel, ghosts. pic.twitter.com/qRI9Dmugnb

— Ghost Recon (@GhostRecon) March 19, 2020
Sam Fisher a highly trained agent of a fictional black-ops "Third Echelon" and is the primary protagonist of the critically-acclaimed Splinter Cell franchise. The franchise includes seven award-winning stealth-based games and has earned a title of one of Ubisoft's flagship franchises along with Assassin's Creed.
Now, every gamer is asking if Assassin's Creed is getting new titles, why a single new Splinter Cell title is an issue. Today, the gamers did the same and asked about the new title instead of praising the news of Sam Fisher.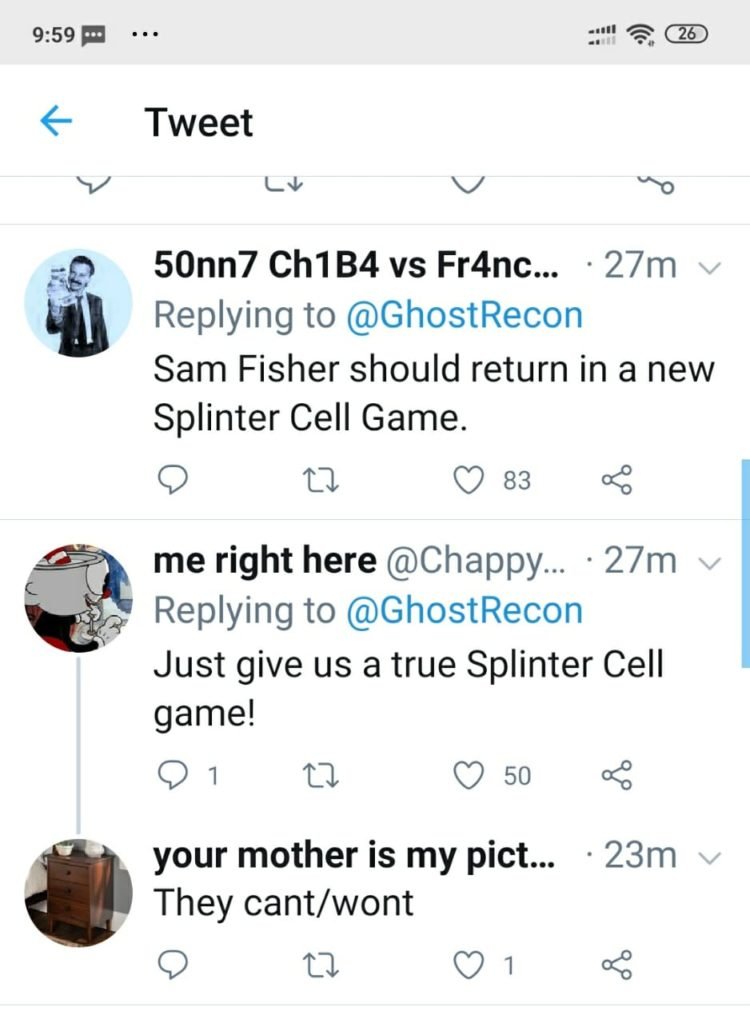 If we talk about the new Splinter Cell game, various news and articles with a mention of a new title have been published, but there hasn't a piece of single official information announced in the past seven years.
At E3 2018, Ubisoft CEO Yves Guillemot stated: "I can't say much about that. But, for sure, all the Clancy games are taken care of. It's just we have quite a lot on our plate at the moment…[A]ll the Clancy games are really coming along, so we are not forgetting Splinter Cell." [48] Later in an Ask Me Anything Reddit post, he stated: "We don't have anything specific to share at the moment, but teams are working on different things, so stay tuned for more."
In May 2019, Julian Gerighty, Ubisoft Creative Director, announced that a new Splinter Cell game is in development, but later, Ubisoft disputed this.
Fans found a sign of relief when In February, during an earnings call, Ubisoft revealed that it would launch five AAA titles, including Watch Dogs: Legion, Gods & Monsters, and Rainbow Six: Quarantine and two unknown titles. They thought one of the two unannounced titles would be the new Splinter Cell title. But reputed journalist Schreier crushed their hopes within few hours by revealing the other title as Assassin's Creed and Far Cry.  He also showed empathy for Splinter Cell fans in his tweet.
Anyone holding out hope for Splinter Cell is, once again, going to be disappointed. Sorry! (It's AC and Far Cry.) https://t.co/7hKDV3y5QS

— Jason Schreier (@jasonschreier) February 6, 2020
Now, with the blank future of the Splinter Cell series, fans have to rejoice by seeing Sam Fisher in Ghost Recon Breakpoint. Nobody knows if the new game is coming in 2020 or 2022 or some distant, distant future. However, we will update you if we get something reliable that could make everyone's hopes high. Till then, keep gaming.