Team Fight Tactics Patch 10.11 is now live in the game with some nerfs and buffs. Patch 10.12 is called mid-set update and it is already up for the next PBE cycle with some balance changes for testing. Dark Star and Star Guardian traits have received a nerf while Mystic and Vanguard are up for buff testing. See the Update 10.12 tentative patch notes below:
TFT Team Fight Tactics Mid-Set Update 10.12 Patch Notes
Traits Balance Changes
Battlecast: Added Battlecast (8): 600 Damage or Healing
Cybernetic: 350&50/600&90 ->350&40/600&80
Dark Star: 12/25/35/60 -> 10/20/30/50
Mystic: 40/105 -> 50/125
Protector: 30/40/60 -> 35/45/60
Star Guardian: 30/50/70 -> 30/45/60
Vanguard:125/300/750 -> 125/300/1000
Champion Balance Changes
Bard
Passive: No Bard has an additional 5/20/90 Mana each attack, but it cannot gain mana against non-champions.
Gnar
Mana has been changed from 0/100 to 0/120.
Spell damage has been changed from 200/300/1500 to 150/250/1000.
Janna
Spell AS Bonus has been increased from 50%/100%/500% to 100%/150%/500%.
Nautilus
Mana from 50/100 to 60/120/
Neeko
Spell Damage has been decreased from 200/275/550 to 150/250/500.
Riven
Spell shield is now 250/400/1000 which was 300/450/1000.
Teemo
Spell Damage is now 150/200/600 which was 175/250/600.
Viktor
Spell Damage 1st: from 30%/40%/200% to 15%/20%/80.
Spell Damage 2nd: from 250/400/1000 to 400/600/2000.
Zed
AD Steal from 25%/40%/80% to 25%/30%/55%.
Tank Changes
Tank champions are provided with more defensive stats. Check them out below: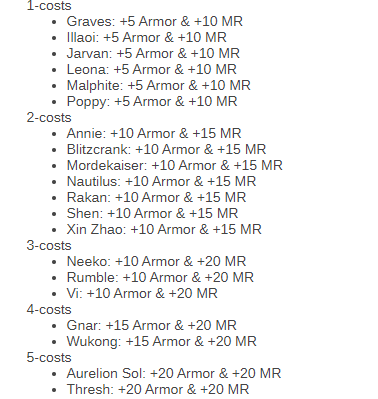 Bug Fixes
Thief's Gloves no longer provide 2x Infinity Edge, Giant Slayer also gives true damage bonus. Issues with Battlecast and Urgot have been fixed.
TFT Team Fight Tactics Patch 10.12 are releasing on June 10,2020.