Street Fighter is a very popular series, and a lot of games have been made under this series. The first game in the series was released in 1987 & it was developed & published by Capcom. Street Fighter is also one of the highest-grossing video game franchises of all time.
Coming onto Street Fighter V, it has been developed by Capcom & Dimps. The game is available on both Playstation 4 & Windows. Street Fighter V game was released in 2016. The game has been directed by Takayuki Nakayama.
Many Street Fighter fans and Nintendo Switch owners were desperately waiting for the game to release on Switch. It seems like their voices have been heard as new leaks have surfaced online which reveals that the game is soon coming on Nintendo Switch.
This leak has came from EB Games Canada Twitter account on January 25. In a post from EB Games Canada, it has been stated that the game is coming to the Nintendo Switch platform. Snapshots of the game were also shared in the tweet. Have a look at the tweet below.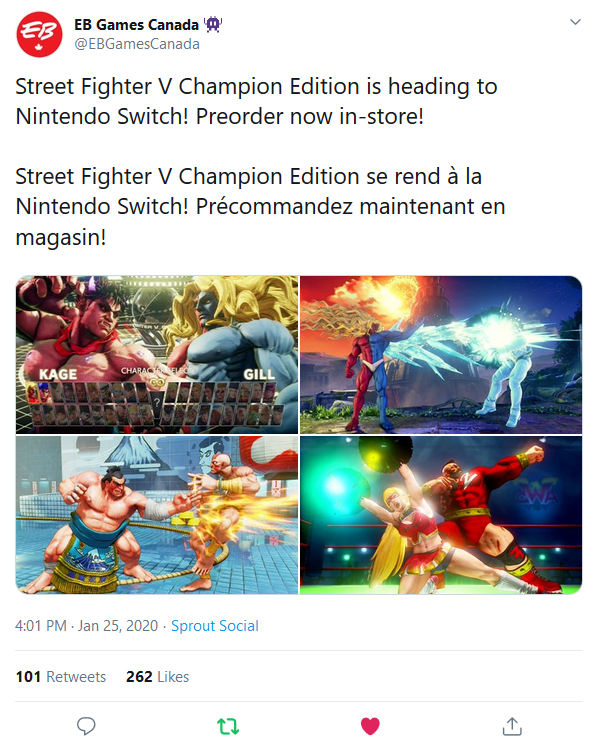 However, former head of Capcom Sports, Michael Martin, has replied to EB Games tweet with laughing emojis. When one fan inquired if the leak is legit or not, he answered "no way". Martin also believed that someone is screwing with EB Games Canada Twitter account.

It is still unknown, whether this leak is true or not. But fans are pretty happy, if this leak is accurate. But this is leaked data & should not be believed for sure. Players should take this leak with a pinch of salt & wait for the official news from the Capcom.