The Covid-19 pandemic has forced all of us to stay at home till a permanent cure is found. It is not easy to sit idle. In this situation, the best you can do is play some mind blowing games. For that, one particular service that you should definitely choose is Steam. It is a video game distribution service by Valve. It was introduced so that Valve can provide automatic updates for its games. It was developed at first for Microsoft Windows operating systems. But later it was also released for macOS and Linux.
According to Valve, Steam had around 125 million active accounts by the end of 2015. Later it was reported that the company had 27 million new active accounts since January 2016. Most of the users are from North America and Europe. But the company has seen remarkable growth in accounts from Asian countries in the last few years. Valve considers the concurrent user count as the main indicator of the success of Steam.
In August 2017, Valve reported that they have seen an increase of 14 million concurrent players from just 8.4 million in 2015. The peak online count increased to 18.5 million by January 2018 with around 47 million daily active users.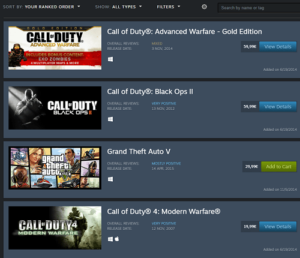 But a problem has popped up in the streaming service. Users have recently complained about it. They said that the Steam wishlist is not showing on their side. A user said that he has 68 titles on his wishlist. But when he tries to access it, an error is displayed saying that there is no content. The user said that it was working fine for so many years and suddenly, this issue has appeared from somewhere. The same problem has been reported by many other users.
Another user said that at first, he was able to see his items on his wishlist. But when he opened the same thing a few moments later, all of them disappeared. Steam has not yet mentioned anything on how to fix this issue. But there are a few things you can try to fix by yourself –
At first, check your wishlist on the web browser or the desktop app. Sometimes the problem does not appear in the other variants of the application.
Go to your search settings and ensure that you have not turned on any filters.
The Steam servers might not be working because of too much traffic or because of maintenance work. Wait for a few hours and try again.