The Spotify Greenroom app is here! With its various features, you can now experience live audio with your peers. Want to make new friends around the globe? You can do that too! Join any public group with the topic of your choice and start talking. Interesting, isn't it? The Spotify Greenroom app is here to change the way people interact online. So, get ready to experience an all-new way to host a watch party.
What the new Spotify Greenroom app offers
Spotify acquired the Locker Room app earlier this year. Afterward, they announced a new app that promised a live audio experience online. Locker Room is an app that allows sports fans to connect on voice and watch live games together. It changed the perception of how sports fans can connect all over the world. However, Spotify has also offered to add music, movies, and other forms of entertainment to the already existing Locker Room app and create a new experience for its users. While the Locker room app will have the same features with a slight UI makeover, the Spotify Greenroom app has come with a refreshing UI offering sports, music, and all forms of entertainment as topics. Enjoy live discussions on favorite topics with your favorite celebrities too.
With the Spotify Greenroom app, you can now:
Join a room. You can join a room created by your friends or a public room with the topic you like.
Join a group. You can join a group with the topic of your choice and engage with its members.
Create a room. You can create your own room for your friends to join. Host a watch party!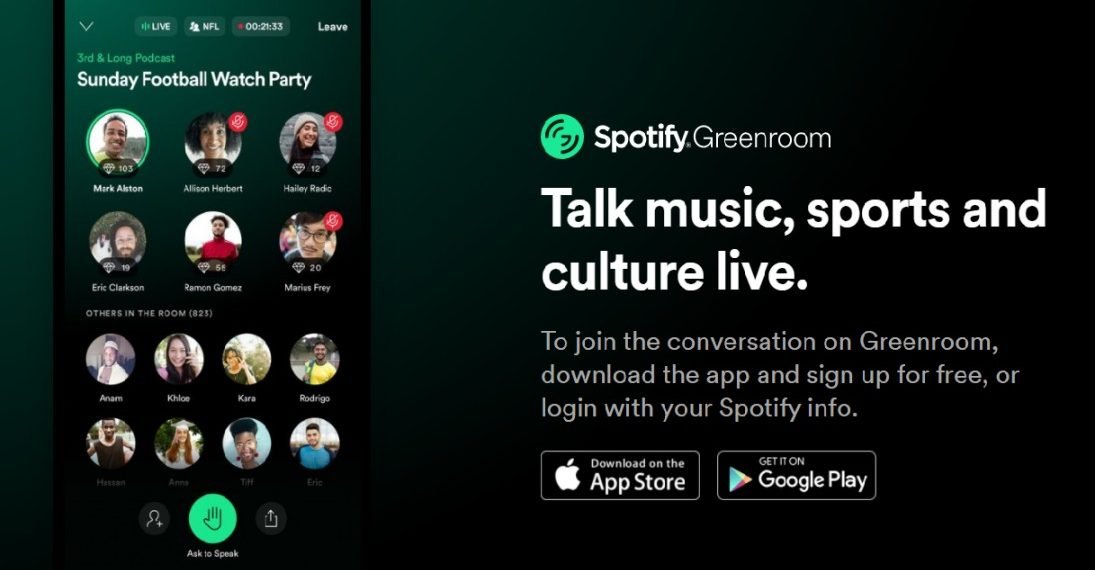 How to download the new Spotify Greenroom app
The new Spotify Greenroom app was launched on 16 June 2021. You can now download the app from Play Store or App Store.
Open Play Store/App Store.
On the Search bar, type Spotify Greenroom.
Tap on Install.
Open the app and sign up with Spotify/create a new account.
Spotify has challenged the viral Clubhouse app by launching the Greenroom app. More importantly, Spotify has made live audio more accessible to users. Spotify has also promised to bring in more features and continuously evolve to provide a good customer experience. We look forward to what the app brings to us in the future!