Patience is a rare trait and NVIDIA have done a great job while putting it to test for all tech enthusiasts. The suspense building around their September online event has served them all the attention in the market. Even the most patient customers have been lured by the leaks going around NVIDIA's GeForce RTX series. Now that we are so close to the launch a part of us just wants to wait. But, let's be honest, a part of us wants to dig in. So here's us serving you the latest on both the NVIDIA GeForce RTX 3090 and 3080, specs for which have been revealed.
Everything about the NVIDIA GeForce RTX 3090, 3080 and 3070
As we already know the GeForce RTX 30 series is based on NVIDIA''s Ampere architecture. The age of 12nm Turing and Volta processors finally has a successor built on the 7nm platform. The information first appeared on VideoCardz. What had initially been predicted as a family of four has been confirmed to consist of three SKUs. The GeForce RTX 3090, RTX 3080 and the RTX 3090. There were claims that spear-heading this line will be a behemoth.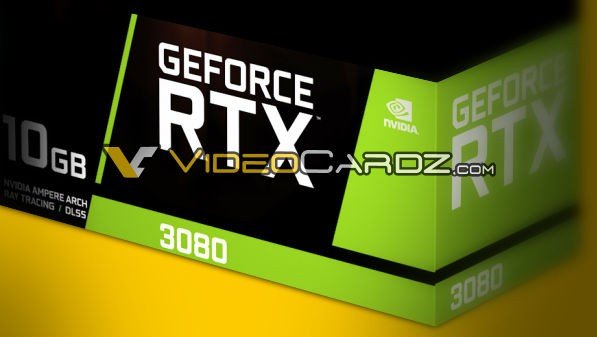 Gladly we finally have concrete reports that say it will be none other than the GeForce RTX 3090. Coming equipped with a 24GB GDDR6X memory it runs on an impressive 384-bit bus at 19.5 Gbps. The card runs a GA102-300 GPU with 5248 CUDA cores running at 1695 MHz. Its immediate junior is built on a GA102-200 card. The RTX 3080 boasts of 4352 CUDA cores running at 1710 MHz. This is the much-awaited variant with 10 GB of GDDR6X memory, running at 19 Gbps. Last but not least is the RTX 3070, the smallest of all siblings whose number of CUDA cores remain unknown. Yes, we do know that it will have a non-X GDDR6 memory and that it will be carried by a 256-bit bus.
NVIDIA has also brought in the new (2nd) generation of ray tracing cores and tensor cores on the complete line as standard. These will particularly be of aid in AI-related functions and Machine Learning. On the connectivity front, you have PCle 4.0 support. NVIDIA's generosity towards users of all range was reflected recently when they launched the MX450 with PCle 4.0 support too. Also, it is worth noting that all third-party manufacturers like ASUS, MSI etc. will use a dual 8 pin connectors. Only the NVIDIA Founders Edition will use the 12-pin connector. NVIDIA made it clear who's the boss, you see.