Sony is a pioneer in the world of electronics. Smartphones are probably just a percent in comparison with the vast market of all the electronic services the brand sells. Other than Sony mobiles, the brand is widely known for headphones and speakers. The most famous Sony smartphones are the Sony Xperia models.
Sony just teased its upcoming model- Sony Xperia 9 and the world just can't keep calm. The image you find below is a screenshot leaked on the Sony Hong Kong website. The details portray some really good design and most probably to fall on the higher mid-range category.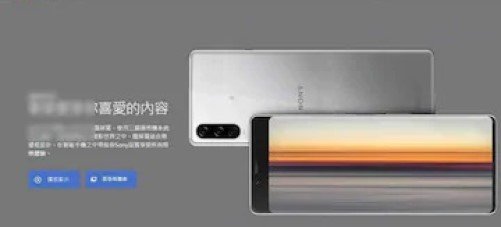 Sony Xperia 9 Details-
The leaked screenshot was shared on Reddit and contains the front end and rear end photos of the expected model Xperia 9. The first look drags our sight towards the bezels. The top of the device holds a large bezel whereas there is hardly a quarter-scale of bezels in the bottom/ chin of the model. If you recall, we got to see a similar design in the Sony Xperia 8.
Talking about the camera, along with the bezels at the top, we get to see a single camera setup without a flashlight as the selfie camera setup. The rear camera is visibly a triple camera setup with a flash at the bottom-most end. The display length seems to be over 6.3-inches, but the estimation is based on the picture.
The speaker grills seem to be placed on the top of the smartphone. Unlike Sony Xperia 8, the device looks like it will equip a curved display rather than a flat one like its predecessor. Visibly, there is no fingerprint sensor at the rear end. The device will most probably opt to in-screen fingerprint display or, no fingerprint scan security (face unlock only).
Sony Xperia 9 Expectations-
The Sony market is gradually facing some decline in the mobile market. the users are expecting lower priced devices in the Xperia series. Also, the features that Sony devices bring along are comparatively low to the cost ratio. Especially against rivals like Redmi and Realme, the pioneers might have to look for a way to provide a feature-packed Xperia 9 to get a better reach among people, rather than just premium looks and appearance.
Sony Xperia 9 Price-
After looking at the prices of Sony Xperia 8, Xperia 10 and the looks of the device, the Xperia 9 will most probably cost over Rs. 20,000. Stay tuned to receive updates on the official price.
Sony Xperia 9 Release Date-
There is no announcement about the release date of Sony Xperia 9. But drawing assumptions based on the upcoming device launches, we can expect the announcement and release about the Xperia 9 after the summer of 2020.
Rest assured, we will comeback with an official update about the Sony Xperia 9 shortly, so stay tuned. Also, share this story with all those who are waiting for the Xperia 9.