Sons of the Forest is an amazing game. But, it is not free of bugs or glitches. A lot of players have reported that they are facing many issues like the game not launching, Unity Crash, Stuttering & Freezing issues while playing the game on their PC. Now, all of these are serious issues that completely ruin the gameplay experience. Most players are unable to play the game due to these issues. Well, if you are looking for more information about this topic, then you've come to the right place.
It is common for games in the Early Access phase to have all sorts of bugs and issues. Devs try to fix most of these problems before the global release. So, players will come across these types of errors almost on a regular basis, if they are playing an early-access title. Well, we are sure that the devs will be fixing the issues soon, but in the meantime, folks do need some sort of temporary fix or a workaround to keep playing the game. Well, this is where we offer our help. Below, we have some methods that might help you fix these issues in the game.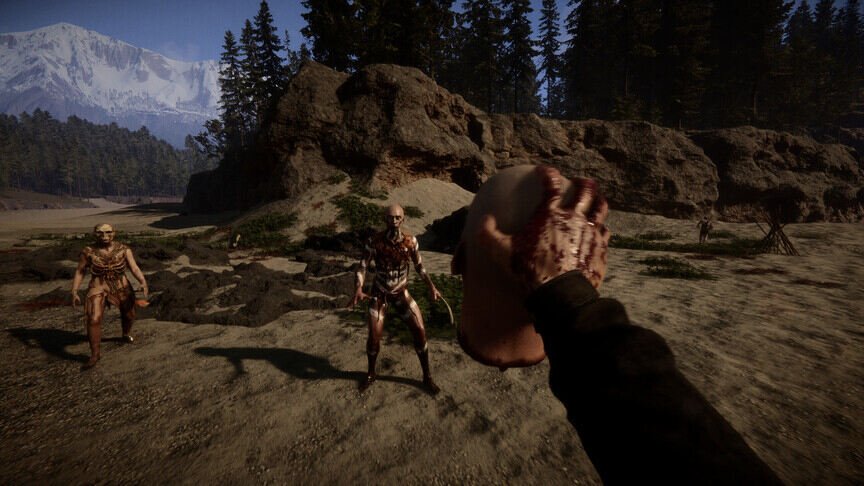 Sons Of The Forest Not Launching, Unity Crash, Crashing, Stuttering & Freezing On PC: How to fix it?
Now, as we mentioned before, there are a couple of methods to fix this issue. But, we can't guarantee that they will work. However, you should try them one by one, and eventually, the issues should be fixed.
1) Reboot your game and the PC-
A bad system boot can trigger all sorts of issues in video games. So, the first thing you need to do is reboot your PC. After a fresh reboot, check if the issue persists.
2) Verify the game files-
For the next step, you will need to verify/repair the game files. This process replaces all the missing or corrupt game files with fresh ones. To do this, simply follow the instructions mentioned below-
Launch the Steam Client.
Go to Library.
Right-click Sons of the Forest.
Go to Properties.
Head over to the Local Files tab.
Click on the Verify integrity of the game files option.
3) Unplug your USB devices-
For this step, disconnect your unused USB devices from the PC. This seems to have worked for a couple of players. USB devices include your controller, steering wheels, and any other additional device that you are currently not using should be disconnected.
4) Close background tasks-
A lot of times, background tasks hog up all the system memory and other important resources that are necessary to run the game. So, press the Ctrl+Shift+Esc keys to open the Task Manager. Now, go to the Processes tab and check which application is using too many resources, and then close them. You should also close web browsers and apps like Discord, and Spotify while playing the game.
5) Switch to the Balanced power option-
This method seems to have worked for a few players. To do this, press the Windows key and then type Control Panel. Now, go to the Hardware and Sound tab and then click on Power Options. Inside, simply select Balanced if your system is running on High Performance. On the other hand, you can also try switching to High Performance and see if it resolves the issue.
6) Tweak the Launch Codes-
You can add certain codes to the Steam Launch window that might help fix the game crashing issue on your PC. All you need to do is open the Steam Client and then go to Library. Here, right-click on Sons of the Forest and then go to the General tab. Now, simply copy-paste the given codes one by one and check which gives the best results.
7) Run the game as administrator-
This is very simple to do. Go to Sons of the Forest's installation folder first. This is inside SteamLibrary/steamapps/common/Sons of the Forest. Here, right-click on the game's executable file and then select Properties. Next, go to the Compatibility tab and check the box next to the Run this application as Administrator option. Save the setting and then close the menu.
8) Update your GPU drivers-
This step is very important. Outdated GPU drivers can trigger all sorts of issues while playing video games. So, go to either NVIDIA's or AMD's website and download the latest version of your GPU drivers. Then, install them on your PC and then restart your PC.
9) Disable Steam Overlay-
Steam opens a small window each time you launch a game. You can disable this overlay through the settings. To do this, follow these steps-
Launch the Steam Client.
Go to Library.
Right-click Sons of the Forest.
Go to the General tab.
Uncheck the "Enable Steam Overlay while in-game" option.
10) Run the game through the dedicated GPU-
This method is mostly for Laptop users who have two GPUs. It is important to run the game through the dedicated graphics card to get optimal performance. To do this, follow these steps-
Close the game.
Press the Windows key and type NVIDIA Control Panel.
Go to 3d Settings> Manage 3d Settings.
Next, go to the Program Settings tab and select Sons of the Forest.
Look for the Preferred GPU option.
Select High-Performance NVIDIA Graphics Card.
Save the settings and close the menu.
11) Install Visual C++ file-
It is possible that you are missing some important Visual C++ files on your PC. These are required to run video games smoothly. So, visit Microsoft's website and download the x86 and x64 files. Now, simply click on these files to install them. In case you already have these files but they are outdated or corrupt, then you might get the Repair option. Restart your PC after the installation/repair is completed.
12) Lower the in-game settings-
Now, if you don't have a high-spec system, then it is better to lower the in-game graphics so that it does not put much strain on your PC. This will also allow the game to run more smoothly. Setting the Quality preset to Low should do the trick.
13) Install the game on SSD-
It is a fact that SSDs are faster than traditional Hard Disks. So, we recommend installing Sons of the Forest on your SSD and then trying running the game. This method will work for other games as well.
14) Update your Windows and BIOS-
To update your BIOS, visit your manufacturer's website and enter your PC's model number. Then, check if there are any new updates and install them. Also, make sure that your Windows is up to date. Install any pending updates that you might have and then launch the game.
15) Reinstall the game-
In the end, if nothing else works, then your last bet is to reinstall Sons of the Forest. This means removing any game-related files from your PC and then doing a clean installation of the game. Since this will take some time, we recommend being patient.
Well, this brings us to the end of this guide. We hope you are able to get rid of these annoying issues in the game. Anyways, stay tuned to Digi Statement for more such gaming guides.