The Stun Gun is one of the most useful weapons in Sons of the Forest. It can help you easily take down mobs in the game. But, not a lot of players know where to get their hands on this weapon. Well, this is quite natural because Sons of the Forest has a decent-sized map that has a lot of hidden places. So, it is possible that you haven't yet found the right cave. Well, if you are also looking for more information and want to get the Stun Gun in the game, then you have come to the right place.
Sons of the Forest is the latest title developed by Endnight Games Ltd. Similar to their previous title(The Forest), you are once again stranded on a desolate island. This time, your goal is to find a missing businessman and try to get out of there alive. But, things aren't going to be that easy. On this island, your only enemies aren't the hungry cannibals. You will need to worry about sharks when in water and other rabid creatures on the land. But, the Stun Gun will always come in handy in these situations as long as you have enough ammunition.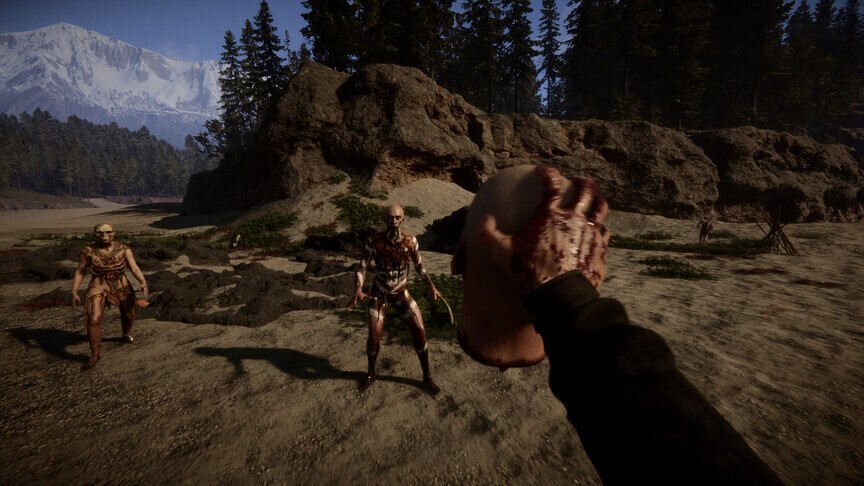 Sons of the Forest: How to Get & Find Stun Gun?
As we mentioned before, it can be a little tricky to get your hands on the Stun Gun in Sons of the Forest. To find this weapon, head over to the Northern beach of the island. If you are lucky, your helicopter will crash on this very spot. Here, you will find the entrance to the cave that has the Stun Gun. Have a look at the image attached below for reference. Make sure to have some weapons as you will need to fight a few enemies inside. Once you are ready, head inside the cave until you reach a fork.
Now, take the right path and continue heading down. You will soon find an open space where a couple of mobs will be waiting for you. Defeat these enemies and then take the right path once again. At the end of this tunnel, you will find the Stun Gun hanging behind a dead character. Do not forget to explore the place thoroughly because you will find some Stun Gun ammunition here as well. Then, simply get back to the surface through the way you came in. Well, this brings us to the end of the article. Stay tuned to Digi Statement for such gaming guides.