SoloFellow hunters hope you are doing good. The chapter begins at Min's funeral and everyone from the Korean raid team was present there including Sung Jin Woo. Whatever happened was not gone in vain. Min's sacrifice paid.
Solo Leveling Chapter 109 Spoilers:
Sung Jin Woo was now fully known to the world. And needless to say, each and every individual had a different opinion for this E rank reawakened S rank hunter. People were filled with criticism as well as inspiration for this man. In the end, everyone knew without this man the raid would have ended in complete catastrophe.
Baek met Sung and he was in tears as he thanked him. We also saw Cha Hae In flustered on looking at Jin Woo. This could potentially indicate we will definitely see romance. As Jin Woo paid respects to Min he sat with chairman Goh. Chairman answered about his guild questions and asked him about the suspicious activity that occurred on Jeju island a while ago. And as Jin Woo was about to discuss few more things we see chairman leaving for an important meeting. What could it be? That he left even Jin Woo. Jin Woo too prepared to leave.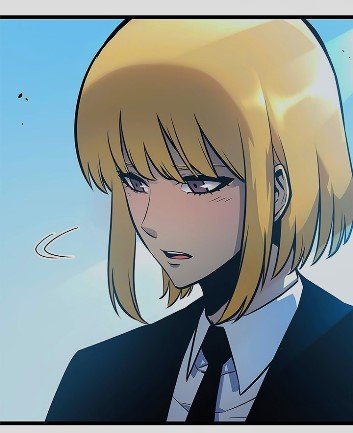 As Jin Woo was about to get inside his car, a foreigner from Hunter's Bureau approached him regarding some matters to be discussed. Jin Woo suspected that this was the same foreigner that Jin Ho said wanted to contact him before the raid. Nonetheless, we see the foreigner trying his best to persuade Jin Woo to come with him to meet his Deputy in charge.
He even blurted out about a hunter capable of upgrading others which piqued Jin Woo's interest.
As we see Jin Woo visiting their place, he is greeted by the deputy. The deputy offered Sung to join the USA thereby providing him citizenship. But as always Jin Woo sticks to the point and asks about that hunter. The deputy calls Mrs. Selner. Who is this woman? And is she really capable of upgrading other hunters? How does the bureau get hold of this woman? Will Sung really join the U.S.A? Find out in the next chapters.
Solo Leveling Chapter 109 release date:
Till then stay tuned hunters. Do mention your theories in the comments below. Chapter 107 is expected to release on 11th March.
Where to read: Solo Leveling Chapter 109
We request fellow hunters to read from official sources if possible. This will be helpful for our beloved artists who are tirelessly working hard to deliver such great content. You can read at Jaiminisbox.com/ or if you have some official manhwa sites you can post in the comment section below!
---
[Update – March 9]
We have just posted a new article with fresh and updated content. Check it out. Just visit the link mentioned below to read it now.
---
---
Note: We at DigiStatement, do not support any kind of illegal source for accessing copyright content by any means. Thus, we request our readers to read Manga and watch Anime from the official website only.