Hey hunters, We hope you all are doing well! Last time, we saw how Jin Woo captured the ant king's shadow and made him his own soldier. As a matter of fact, things didn't end there. The shadow this time had a different grade assigned to it. It was a general/commander grade. It's quite obvious that this is the strongest shadow captured until now. The second to it is Igris, possibly.
Solo Leveling Chapter 106 spoilers –
The shadow that speaks??:
The shadow knelt down after meeting his gaze with Jin-Woo's. Without a doubt, the 'absolute loyalty' that affected all the other Shadow Soldiers also applied to this guy, as well.
'Nice.'
Next stop, the ant queen.
Jin-Woo formed a satisfied smile and turned around. But, then….
"Oh, my king…."
Jin-Woo's steps came to an abrupt halt after he heard that voice coming from behind him. He never thought that he'd got scared that easily, but at least at this moment, he did feel like his heart had taken a nasty tumble down to the pit of his stomach.
…. Could it have been an auditory hallucination?
Jin-Woo looked behind him. Even without doing that, he could tell with his acute senses that there was nothing there besides the ant's shadow. That shadow was still kneeling on the ground, his head deeply bowed.
'…….'
Jin-Woo studied the shadow as he slowly turned around.
"Was it you?"
The shadow opened its mouth as if he was waiting for this moment.
"Please grant me… a name……"
Although it sounded a little inarticulate, the ant's shadow was definitely speaking back to him.
Wait, what? Till now we only had shadows that became Jin-Woo's loyal soldiers without speech. Not to forget Jin Woo is capable of sensing the monster's emotions. Now, for the first time, a shadow is able to speak. We know that Jin-Woo's soldiers also get upgraded( summoner's summons depends upon the summoner's level). This does mean that other shadows will also speak when they reach a specific level or will they not?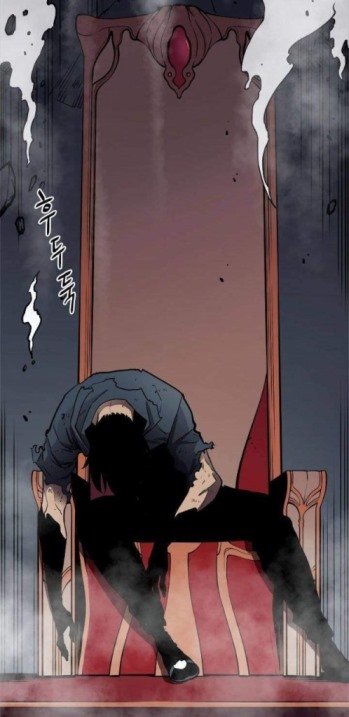 Korean hunters regroup with the chairman:
The helicopter containing the Hunters headed straight back to the city of Seoul.
Tatatatatata-!
The Association President Goh Gun-Hui had been anxiously waiting for their arrival, so when the helicopter landed on the landing pad located on the Hunters Association, he quickly went over personally and opened the vehicle's door.
"How is Cha Hae-in Hunter-nim's condition?"
The gazes of the Hunters all shifted towards where Cha Hae-in was. She still hadn't recovered her consciousness yet and was lying on top of a blanket laid out on the helicopter's floor.
"Hurry! This way!"
"What's going on?"
When Goh Gun-Hui asked them, they answered almost at the same time, making it hard to tell who was the first to open his mouth.
"She's not injured anywhere."
"She's perfectly normal."
"Are you saying that there's no need to treat Hunter Cha now?"
The Healers nodded their heads. They also explained themselves a bit further.
"Not sure who did it, but truly incredible healing magic was cast on her. Because of that, we don't need to do anything here, sir."
Goh Gun-Hui was feeling genuinely flustered now.
'They didn't have a Healer over there, too….'
After all, their sole Healer, Min Byung-Gu, met with a grisly fate, didn't he?
Goh Gun-Hui asked the team leader, Mah Dong-Wook.
"Just what happened back there, Hunter Mah?"
"That is…."
As Mah Dong-Wook fell into a dilemma, wondering how he should go about explain this situation, one of the Healers hurriedly shouted out.
"She's waking up!"
Everyone's attention was focused on her in an instant. Goh Gun-Hui carefully sat down near her head and asked her.
"Cha Hunter-nim, can you hear me?"
Cha Hae-in slowly opened her eyes.
"Where….?"
"….Did Seong Jin-Woo Hunter-nim show up there?"
She was supposed to be unconscious all this time, so when she mentioned Seong Jin-Woo's name, other Hunters were all inwardly taken by surprise. Instead of a verbal answer, Goh Gun-Hui slowly nodded his head.
A thin smile formed on Cha Hae-In's face.
'I knew it… it wasn't a dream.'
Cha Hae-in had briefly woken up, but she fell back into a deep slumber again. After confirming that her breathing was stable, Goh Gun-Hui ordered his subordinates to take her to the hospital, so she could get some much-needed rest.
Only then did he notice that Hunter Seong Jin-Woo wasn't in the helicopter. He shifted his gaze back to Mah Dong-Wook.
"By the way, where is Seong Jin-Woo Hunter-nim?"
Having heard that question from the side, Baek Yun-Ho quickly butted in to provide an answer.
"Hunter Seong Jin-Woo, he… chose to stay behind."
"What do you mean, stay behind?"
"Where did he choose to stay behind?"
"He told me that he still had business to take care of on Jeju Island."
"….Are you saying that he didn't even get on the helicopter in the first place?"
While Goh Gun-Hui asked, sounding quite flustered, Baek Yun-Ho smiled sheepishly and nodded his head.
"Yes."
Sung Jin-Woo at least revealed all his current cards while saving hunter Cha except for the gravest secrets. But, the information spread only among the Korean hunters present there we do know that the communications to outside were cut-off completely. Thus, the chairman does not know a single thing that actually happened. And being there Korean hunters surely know about Sung Jin-Woo so they kept their mouth shut. The main thing, Cha Hae In healed completely. Thus, chairman Goh was confused about how this all happened? The fact to be noted hunter Cha on waking up after sensing Jin Woo's smell happily slept again.
–
Beru: General rank soldier:
"How is it that you're able to talk?"
"I just…. can."
How come only this guy could talk?
There was only one obvious difference between this guy and those who couldn't talk.
'Grades….'
Unlike his other soldiers with grades of 'Elite Knight' or simply 'Knight', this guy came with a new grade called 'Commander'.
It was possible that one would be able to talk after reaching a certain grade. As he didn't have any solid proof yet, this was the most plausible explanation he could think of.
'That means, my boys, will all start talking as soon as they level up high enough….'
"I'm the one who killed you."
"…"
"Yet, you still wish to serve me?"
"I….."
A completely unexpected reply came from the ant's shadow.
"I didn't die, but… through the power of my liege… I am reborn."
The shadow then raised his head. And while meeting Jin-Woo's gaze, it continued on.
"Within me… elation… overflows. I shall follow my liege… for eternity."
Ba-dump!
Why did it happen? Was it because he felt the shadow's true feelings?
Jin-Woo's heart pounded powerfully right at that moment when the ant's shadow swore his eternal loyalty. He placed his hand on his chest to somehow calm his wildly beating heart. It quickly regained its usual calmness.
It was then, the ant's shadow lowered his head again and pleaded with Jin-Woo once more.
"Oh, my king….. Please, grant me… a name…."
The talk had reverted back to the beginning.
This sure came across as a rather different experience to Jin-Woo, now that he was hearing the plea of the subject directly from itself, rather than from some prompts of the System.
A name, a name…..
From the get-go, he didn't pay all that much attention to the naming of his soldiers, but….
'But even then, it's a bit too much to call it ant this and ant that, right?'
There were already hundreds of similar ants like him now in Jin-Woo's army, so it wouldn't do for a Knight Commander to be saddled with a name like 'Ant', now would it?
That was why…..
Jin-Woo pondered for a little while, before a smirk formed on his face.
"….Beru."
He recalled the name of an author who became famous through the novel called 'Ants'.
"Your name will now be Beru."
After Jin-Woo granted him the new name, Beru lowered his already lowered head even further to the ground as if he was truly moved by the gesture.
"I am grateful… my liege."
The information floating above Beru's head had already been amended by then.
[Beru Lv.1]
Commander grade
'It's done.'
The ant king got reborn as shadow general Beru. Jin Woo does not use any fancy names rather preferred a relatable name. And we can see how powerful is the ability that makes these monsters his obedient followers. Even the monsters that suffered terrible deaths still wish to follow him for eternity. Beru's loyal words deeply echoed in Jin Woo's mind. His perception stat was so high that he was able to sense the deepness of those words. In the coming arcs, Beru will prove to be one of the most powerful assets for Jin Woo. But how long will Jin Woo be this overpowerful? What is behind the system the questions are still unanswered.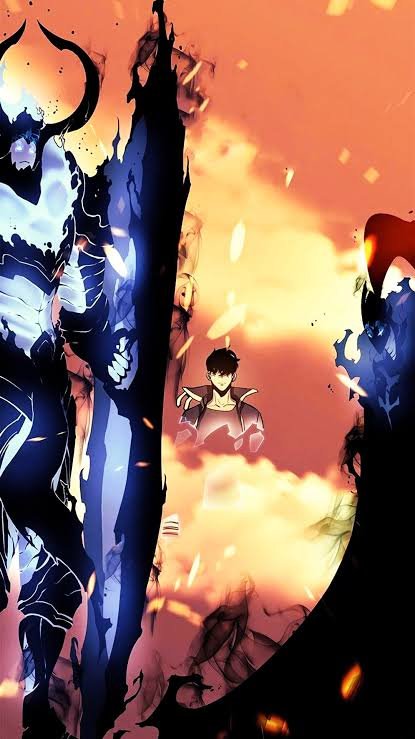 The queen too shall serve Jin-Woo? :
Feeling genuinely pleased with his choice of the name, Jin-Woo turned towards the queen's corpse. Now, it really was the turn of the queen to get her shadow extracted.
Maybe he got a confidence boost from successfully transforming Beru into his Shadow Soldier – because, the queen's Shadow Extraction turned out to be a rather painless affair.
"Rise up."
Kiiaaahhhhk-!
Accompanied by the scream that sounded like the death throes, the Beast Soldier resembling the ant queen emerged out from the shadow.
"Nice!!"
Jin-Woo expressed his delight at the continuous successful extractions, but then, began tilting his head after discovering something rather odd.
'What's this?'
His connections to the Shadow Soldiers who were originally ant monsters suddenly grew fainter after the queen's shadow materialized. It almost felt as if a pale grey fog was covering up the threads connecting them.
"Beru."
Even before he finished calling it, Beru had already approached Jin-Woo's side.
Step.
"The ruling of the ant army… it's the queen's innate ability."
'Aha.'
So, did that mean the authority to control the army of ant shadows would automatically be handed over to the queen?
'But, that is a bit….'
Even though the queen was subservient to him, he thought that it wasn't okay to entrust the control of all of his ant soldiers. Because he'd have to issue orders through the queen every single time.
"Okay, what about the reason for the decrease in the queen's magic energy?"
"Most of the queen's magic energy… is for propagation. Propagation is impossible…. without a body, that is why…"
Jin-Woo cut him off there.
"That's why it only has half of its original magic power?"
"That is correct… my liege."
By piecing together what Beru had said, the queen didn't seem to have much of a use for Jin-Woo. After a short deliberation later, he decided to cancel the summoning altogether. He didn't have any reason whatsoever to keep around a subordinate who had no use but only continued to drain his limited resources, now did he?
Kiiieeehhhk-!
The queen's shadow instantly became smoke and scattered in the air.
[Number of stored shadows: 570/570]
His shadow was now packed to the brim with soldiers, so….
'….So, the only things remaining here are the magic crystals.'
Jin-Woo took a look around him. Top grade magic crystals only seen within rank S Gates were rolling on the floor like common pebbles.
Since there was no one watching him, and he was the one who killed the majority of them, he could have swept them all up if he wanted to do so. However, Jin-Woo gave up on that idea.
He heard that these crystals would be used to compensate the victims, as well as to rebuild the Jeju Island to its former glory. Jin-Woo wasn't exactly hurting for cash, so he wouldn't covet after other people's stuff.
'Still, I'm sure no one will mind me taking this one.'
Jin-Woo took out the magic crystal from Beru's original body. It was a beautiful pitch-black magic crystal that resembled a gemstone. After pocketing the magic crystal, Jin-Woo summoned out Kaisel.
Kaisel flapped its wings and finished getting ready to fly in an instant. Jin-Woo lightly jumped on his back and took one last look at the queen's chamber.
The place once filled with unbridled chaos was now enveloped in this eerie silence.
'…….'
The Jeju Island expedition was now over.
Jin-Woo's gaze shifted away from the interior of the chamber and towards the exit.
"To home."
Sadly, the queen didn't join the shadow gang. Well, it would have been great trouble if Jin Woo were to carry a middle agent for communicating with his fellow soldiers. So, it's better this way. We see Jin Woo acquired a rare crystal from Beru's original body. This we think is none other than the accumulated magic power. Well, quite a bit of great loot. Then our hunter heads back home. There are a lot of plot holes left to cover.
Solo Leveling Chapter 106 release date –
Till then stay tuned. Happy hunting! You can expect the next chapter to arrive on 20th February. Also, fellow hunters are advised to read from official sources/translations if possible to support the artists 🙂