Sung Jin-Woo can control the dead. It's an obvious fact for us but the hunters came to know about it now. As Min got revived as a soldier we see him without any order, healing hunter Cha. Sung saw this felt the kindness this man possessed. Seeing his revival hunter Baek got nervous. Baek knew this man hated to fight and as the loyal friend of Min, he requested Sung to let him free. Sung reminded him of how things have changed now that he was no longer the same guy as he used to be.
Solo Leveling Chapter 106 Spoilers –
Then, Sung Jin-Woo accepted Baek's request as he himself was going to do the same thing. Next, we see the helicopter arriving and taking all the Korean hunters back. Sung stayed behind to reap the benefits. Being in possession of the system power not only allowed him to equip multiple weapons but also to store them and thus we see him using a new kind of weapon. He equips a giant longsword instead of daggers and handles it perfectly wiping out all the unhatched ant eggs.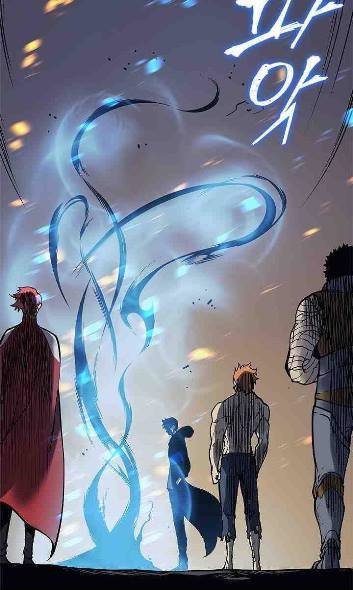 As Sung leveled up to 100 on one side, we see the changes occurring massively. As the news reached each part of the world not only Japan even America got excited. The hunter bureau discussed Sung's abilities and finally, we got some news on Sung's father Sung Il' Hwan. As seen in older chapters Hwan was found in a dungeon and the people were terrified and confused whether this man was a monster or a hunter. Now, this indicates that in the future chapters there is a high possibility of Sung visiting America. We can also expect a huge battle if America tries underhanded methods to recruit Sung.
Not to forget they have got Thomas Andre the National level hunter who appeared in the demon castle arc. Has Sung reached the national level hunter level? And what kind of power does Hwan possess? Coming to the end, we got to see the ARISE scene on the ant king and this time we see a general rank next to the soldier. What power does this soldier hold? and why was the aura so intense? Find out in the upcoming chapters.
Where to read Solo Leveling Chapter 106 Spoilers –
It is advisable to read from official sources. This will support the artists and will help them a lot. If you can't read from the official sources then you can always read here :). Happy leveling.
Solo Leveling Chapter 106 Release Date –
Till then stay tuned. Blast your theories into the comment section. And do not forget to support the creators and translators. Only read from the official sources or buy them if available. The next issue would probably be translated by 20th February.
---
[Update – February 17]
We have just posted a new article with fresh and updated content. Check it out. Just visit the link mentioned below to read it now.
---