Readers read at your own risk spoilers ahead. 
I am guessing you all have read chapter 101 by now. Well, sadly it seems it was a bit rushed. As the fight in the novel was more intense and thrilling. Read ahead to know what all happened. 🙂
And yeah the hype is real so the conclusion of the battle is not revealed. Feel free to read the reactions and some parts of the fight.
Jin Woo vs Ant horde:

'Ant monsters?!'

At a casual glance, they looked like ant monsters, but then again, endless streams of black smoke were rising from their bodies.

Seeing that scene, Baek Yun-Ho too gasped out in shock as well. He was comparatively calmer than the cameraman, but that didn't mean he could close his slack jaw.

'All of those…. is his summons???'

Unlike the two speechless men, Jin-Woo was forming a satisfied grin at the new additions to his shadow army.

'Nice.'

Now, the number of his Shadow Soldiers easily overwhelmed the surviving ant monsters.

'With things like this, it looks like I won't have to personally step out now.'

Jin-Woo stored the Demon King's Shortswords back to his Inventory. And then, issued the very first order to his new soldiers.

'Go. Don't leave anyone of them alive.'
As you can see Jin Woo overwhelmed everyone with too many shadow knights. Hunters were confused about how he capable of keeping such large mana reserves. Only Jin Woo knows that they don't require mana. It's all thanks to the system. You can all just imagine how terrified every hunter will be after knowing all of this. It was mentioned that even chairman Goh was stunned.
As Jin Woo was busy fighting, on the other hand, we see what all happened in his house and in Japan.
Reactions of Jin Ah And mom:

"Where's Oppa?"

"He's right h…."

Mom turned around to look, only to gasp out in surprise.

"Oh, my?? Where did he go? But, he was here only about a second ago??"

"Oppa?"

"What were you watching together just now?"

"The Jeju Island raid."

"….."

'No way….?'

Jin-Ah hurriedly ran back inside her room and switched on her phone. When she did…..Just as the vigorous, loud cheers exploded out from the floors above and below hers, Jin-Ah's eyes opened wider as she finally confirmed the scene playing out within her phone's screen.
Now, many of the hunters and citizens were curious why with so much power did he not get earlier. Sung Jin-Woo's main reason for not getting into the fight was his mom.
The reactions ranging from the chairman to the people across the world everything is vividly given in the chapter of the light novel. As you can see the story is clearly rushed in the manhwa.
Honestly, speaking the light novel is way more intense than the manhwa. Also, you can see due to content limitations we cannot provide all the details. So do read the light novel chapter if you can :).
Coming to the Japanese reaction:
Japanese people and their reactions after Goto got killed:

What do you mean, disappeared??"

It was a creature capable of killing Goto Ryuji. So, how could the satellite equipped with the magic energy detection camera keeping a close eye on Jeju Island not pick up on such a powerful monster?

The employee seemed to have figured out what his boss was about to say, and he pointed at the monitor once more.

Once spots of lights belonging to Goto Ryuji and the Hunters around him disappeared, the larger, brighter light vanished quickly, as well.

"Oh, my god…."

'That was why…. Because it was such a monster, that….'

That was why the research team failed to notice the creature before.

It was, without a doubt, a perfect failure.

 And as a punishment, Japan just lost ten of her elite Hunters.

'When that nonsensical monstrosity crosses the ocean and enters the country….'

Even though Matsumoto Shigeo tried to shake them off, the horrifying images continued to fill up his head. It was then.

"We found it! The b*stard has reappeared again!"
Now coming to the fight :
Jin Woo vs Ant King:

The ant king's fist powerfully slammed into Jin-Woo's face.

SLAM!!

Jin-Woo's back nearly bent backwards, but he stomped down and withstood the hit.

'….!!'

The ant king had struck with all of its might behind that punch, so it couldn't help but get taken by surprise.

"You can… withstand my power?"

The ant king struck out with a simple plan to kill this puny human in one hit, but instead of sending him flying away, the whole thing simply ended with his head-turning slightly away.

Too bad, there was no time to remain surprised, because Jin-Woo's own fist flew in afterwards.

Swish-!!

SLAM!!

The ant king was smacked right in the middle of its face, and it flew away to crash into the wall on the far side of the cavern.

Kaboom!

As if a meteor had collided there, the wall caved in deeply. Although it was only for a short while, the impact force was powerful enough to shake the entire ant tunnel.

"What kind of an ant talks this much?"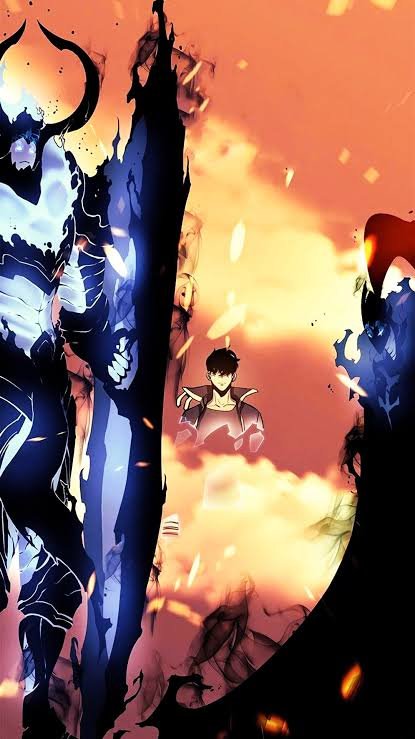 The world gets thrown upside down:

Sung Jin-Woo total op.

The eyes of the viewers grew wider and wider.

And then….

SLAM!!

The ant monster got shoved deep into the cave wall.

"….."

"……."

Most viewers required a little bit of time to process what just transpired.

But when the camera zoomed in on the ant king half-buried in the cave wall…..

Waaaahhhh!!!

Yet another round of loud cheering exploded out.

As the two of them walked closer, the distance between them shortened faster and faster. Soon, Jin-Woo and the ant king stood right before each other again. And then, without a hint of hesitation or mercy, they began exchanging countless attacks, each thumping hit carrying all their might.

Slam!!

Kaboom!!

BOOM!!

"Woo-whoop…"

"Are you alright?"

"I, I'm fine."

The cameraman was only a rank A, but he still tried his best to suppress the contents of his stomach from rising up. He was even experiencing vertigo, too.

'Woo-work….'

Even then – even as his complexion paled greatly, he could still maintain his smile all because….

Slam! Slam!! Slam!!!

'How can a lone Hunter do that against such a monster….?'

….Because, he saw a ray of hope.

Kwa-boohoo!!

Hunter Seong Jin-Woo might be getting wounded from that exchange, but the outer shell of the ant king was definitely being broken as well.
 Well since you all have waited with so much anticipation we would not spoil your fight and the result between these two behemoths would get revealed later. But as you can see Sung Jin-Woo totally crushes the so-called ant king. The hunters were terribly astonished that he alone was handling this creature without any help from his soldiers.
This saga is just a stepping stone for our shadow monarch. You all will be truly be aww struck with the coming chapters.
So stay tuned and enjoy the upcoming chapters.