Note: We are updating this post continuously and the new updates can be found at the bottom.
---
Pandora is a music streaming service that selects songs based on the user's preferences. Because the service selects the songs for the user, Pandora is also known as Pandora Internet Radio or Pandora Radio.
Currently, Pandora is not working for many users. So, Just in case you're worrying why Pandora is not working for you or throwing login problems, find solace in the fact that you are not alone, many others are facing the same issue.
A quick glimpse at the micro-blogging site Twitter conveys there are many others affected by the same issue. For a quick glance, here's how some of the complaints word the problem.
Pandora is down

— 🥓☕Nathan Reimer🇵🇹⚽👨🏻‍🍳 (@natedogreimer) January 6, 2020
@PandoraSupport – Pandora streaming service is down. When will it be restored?

— Carl Hadden MBA CME CPBA CPDFA (@Carl_SBDC) January 6, 2020
Maya— did Pandora just go down for maintenance or is Iran fucking with us?

— DAGOfied 🇺🇸⚖️🏳️‍🌈 (@DAGOfied) January 6, 2020
Pandora Outage Map: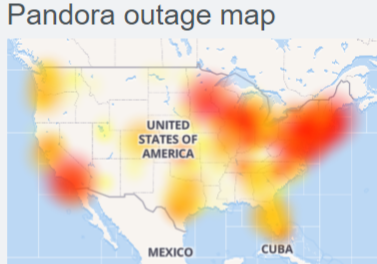 Any official word on the matter? No, not yet. We're not able to obtain a word from the official service channels or their social media handles.
Rest assured, we're keeping a close eye on all related developments, and will update the story with relevant info as and when we come across any. So in case, you're encountering the issues discussed here, stay tuned for updates.
---
UPDATE: Jan 13
Pandora is down again and not working for many users. However, this time its looks it is down for maintenance not due to some technical issues.