SnowRunner is an open-world off-road simulation video game available on various platforms such as PlayStation 4, Xbox One, Nintendo Switch, and Microsoft Windows. The game was developed by Saber Interactive and published by Focus Home Interactive.
SnowRunner, formerly MudRunner 2 is a spiritual sequel to Spintires and also, its sequel version MudRunner. The game takes place in open-world locations with difficult terrains. Likewise, the gameplay involves traversing between difficult terrains and locations to complete various objectives. SnowRunner includes both single-player and multiplayer modes.
The game features over 40 different off-road vehicles and more than 15 sandbox locations. It has intricate simulation features. It also includes a damage system, accurate driving physics on rough terrains, physical wear and tears on the vehicles.
Gameplay
SnowRunner's open-world setting takes place in locations where there are the aftermaths of multiple disasters such as floods, pipeline breakage, etc. Consequently, the setting has rough terrain and also, a difficult weather system. Players have to traverse through all the difficult paths in the game following different routes and also, rely on their driving skills. As the player progresses by doing certain missions, they earn money. The money can then be spent on a better vehicle, usually making it easier for the player to traverse the game's difficult terrain. Likewise, there are also missions where the rewards get bigger in proportion to how fast a player takes to complete the mission.
SnowRunner Season 5 Update Overview
The game's Season 5: Build and Dispatch, released on September 9 for the available platforms. The Season 5 update highlights are- New Vehicles, New Regions, New Missions, New Modes and also, various improvements. Likewise, the game now supports PC crossplay. The DLC Season 5 update is a part of the 2-year pass in the game.
A 2-year roadmap for the live content updates coming to the game from the developers.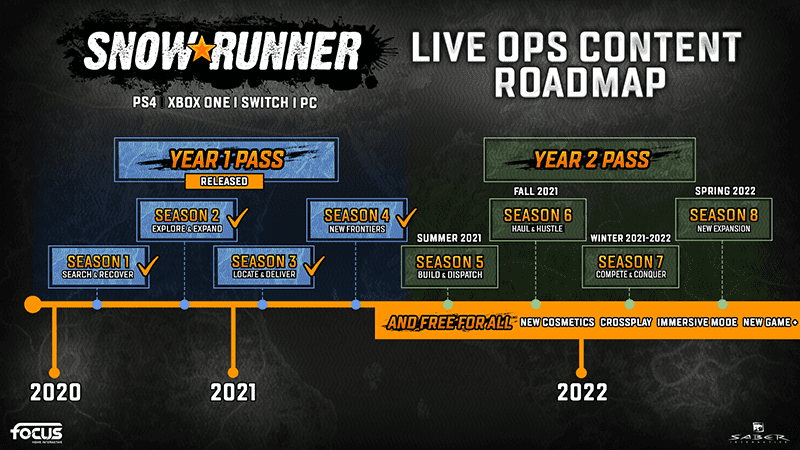 SnowRunner PS5 Upgrade
Players are in anticipation of the next-gen upgrade for SnowRunner. In addition to the announcement of the 2-year content update roadmap, the developers gave confirmation of an update for the next-gen upgrade. On the SnowRunner official Twitter account, the developers made an announcement that they are currently working on the next-gen upgrade.

The PS5 Upgrade for SnowRunner is therefore likely to be available in the near future.