Smite is a free-to-play, third-person multiplayer online battle arena video game developed and published by Hi-Rez Studios for Microsoft Windows, macOS, PlayStation 4, Nintendo Switch, and Xbox One.
Hi-Rez Studios have announced an all-new update for Smite which is going to bring a new character Baba Yaga to the game. The update has not been announced yet, but today, in the official live stream, the developers will be mentioning the details about the new character and the arrival date. Well, here, we will be talking about the details like the abilities of Baba Yaga based on the leaks and other official info.
According to the developers, the all-new character Baba Yaga is going to arrive in SMITE because of overwhelming support from the Smite community. She is one of the most requested characters and the dev team is finally making this eerie goddess a reality.
In the Smite, Baba Yaga, the witch of the woods will be sought out by Mulan for answers about the Jade Corruption. Along the way, Mulan will meet Persephone. Mulan has little understanding of what Persephone has done, but the Queen of the Underworld seems genuinely willing to help so Mulan agrees to let her travel with her.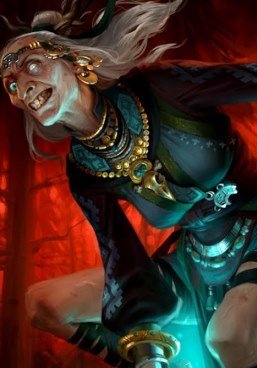 Baba Yaga is a Mage, focusing on ranged magical damage. She is intended to be playable in the Mid Lane mostly and excels at throwing out ranged poke damage. She is very light on crowd control and instead focuses on zoning out enemies through the threats of damage. In usual Baba Yaga fashion, her damage comes at a chaotic price.
Baba Yaga details –
Theme – Witchcraft. Her magic results from her mortar and pestle, where she mashes together strange ingredients into potions or spells with a wide array of effects.
Visuals – An old and scary woman who rides around in a mortar and pestle, usually pictured along with her cabin that walks on chicken legs.
Personality – Chaotic Neutral. She can help, she can hurt, sometimes both, or neither. This personality leads to a combination of creepy and wacky in SMITE.
Perspective – Baba Yaga is wildly unpredictable and unreliable, and many gods aren't even aware of her existence is real or not. Gods tend to keep their distance from her.
Smite Baba Yaga Abilities –
Now, let's talk about the other details and abilities of Baba Yaga. According to the official statement, Baba Yaga's kit features "controlled randomness" in a way no other Smite god has. Other than this, she has a unique take on a leap ability, ability to stack items faster than other gods, and also an ability where she gets in her cabin and controls it.
Baba Yaga has to stack items faster than other gods and a passive that involves her Cabin acting as its own character, pathing around the map.
Oher major abilities can be checked out below –
Ability 1 changes shape and secondary effect on each fire of the ability

The Baba Yaga player will always know what shape and effect will be fired next, visible in her passive meter

Ability 2 causes Baba to brew a potion with a random combination of ingredients that will add bonus damage or secondary effects to this attack

Baba can also store a potion in her consumable slot to be used later
---
[Update – April 21]
Hi-Rez Studios is rolling out a new update for Smite. The new, Witch of the Woods update is live across Xbox, PC, PS4, and other platforms and can be download now.
With the new Witch of the Woods update, the new God – Baba Yaga is finally arriving in the battleground.
So, what are you waiting for? Download the latest update and try out the new Baba Yaga on the battlegrounds.