The Sims 4 Eco Lifestyle Expansion Pack is almost at our doorsteps. The developing team of the game announced that it will be out as early as June 5, 2020. To prepare our games for it, the Sims 4 team has also made an announcement for an Eco Lifestyle Pre Release Game Patch. This update will be coming to the base game and it carriers tons of different new features.
Recently in a community livestream on YouTube, Sims Gurus revealed that the update patch will be released on June 2, 2020. They showcased all the features in the live stream which we have listed below :
Build Mode Update
Sims 4 players know that they can press ALT while moving an object, which allows for the careful and precise placement of the said object. Previously this feature was not available while moving or placing windows and doors. With the pre release update patch, the developers have uplifted these building restrictions. Players will now be able to freely place doors and windows in build mode.
Builders still won't be able to stack windows in the build mode, however future updates might address this issue.
Bills & Utilities Revamped
The developers of Sims 4 have reworked and revamped the existing bill system. After the update, the entire system will be more comprehensive for the players. A new option called "Show Bill Information" will be available in the mailbox. Clicking on it will give a detailed breakdown of all the bills and utilities.
Apart from that, the way the game calculated bills previously has also been updated. Bill prices will now be affected by the player's lot price and other factors such as the water and power usage on objects.
Repoman
Confirmed by the Sims Gurus on the livestream, the Repoman is back in Sims with the new update patch. If players aren't paying bills on time, their Sims will have their items repossessed by the Repoman.
Fire Fighters
Near the end of the community livestream, the Gurus set everything on fire. Shortly after that, Firefighter NPC's showed up to the rescue. This confirms that beloved NPC's like the Repoman and Firefighters will be coming back to Sims 4 with the pre release update patch.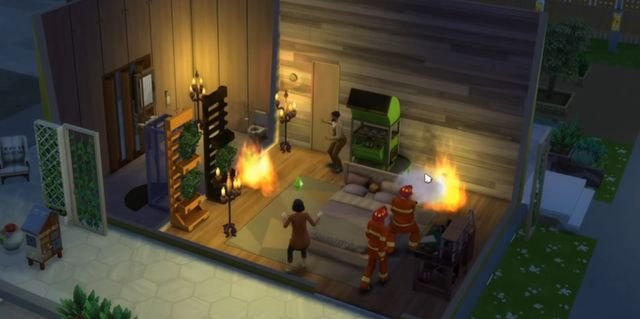 Extra Features
The developing team has also introduced Ladders in the game. Players will get them for free and they will be able to place it anywhere around their lot. Certain "off the grid" improvements have also been made.
With the new update, sorting through the inventory of your Sim will become much easier. It introduces the Inventory 2.0 which will allow the players to sort a Sim's inventory by categories.
That covers all the nooks and crannies of what was revealed during the community live stream. Heads up for the Eco Lifestyle Expansion Pack as we will be covering news related to it when it comes out.