Shenmue 3 is an all-new gaming title in the action-adventure game series- Shenmue. The new title is developed by Neilo and Ys Net and published by Deep Silver on November 19, 2019, for the PC and PlayStation 4 platform.
Shenmue 3 crack download status –
The all-new Shenmue 3 launched on PS4 and PC platforms. The game is not free-to-play, and fans all over the globe are wondering if the hackers group crack it or not. If you are one of them, you might have come across a number of websites that claim that the crack version of the new Shenmue 3 title is available and can be downloaded.
Well, all of these websites and YouTube videos are click-baits only. The new Shenmue 3 is still uncracked. You can check out the crack status report of the game by Crackwatch, below.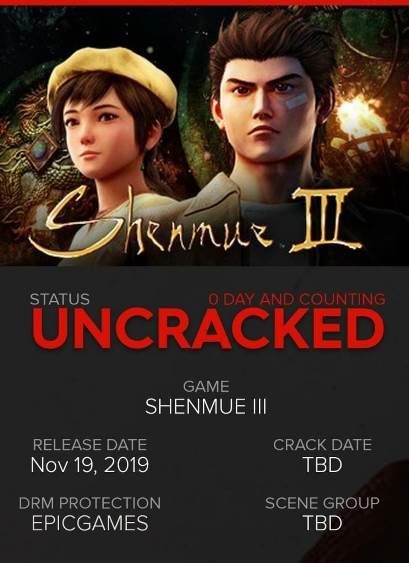 The game is available on Epic Games launcher for PC platforms. Like all games launching these days, Shenmue 3 is also DRM protected. Epic Games manages the digital rights for Shenmue 3 and supports Anti-Tamper, Application License Management, Anti-Cheating, and Media & Process QC.
Well, the protection by Epic Games is not as secured as Denuvo's. This is the reason why hackers claimed to provide the crack version at the earliest.
CPY, Voski, Reloaded, CODEX, PLAZA, and HOODLUM are the most prominent hacker groups famous for cracking various games. They will be setting their eyes on the game so, we can expect the crack version very soon. Stay tuned, as we will update the latest status of the crack here.
NOTE: We do not support the copying of content. And it should be kept in mind that downloading a cracked version of the game may save you some bucks, but the cracked games are not safe at all. So, we recommend you to buy the game officially.