Samsung Galaxy S20 smartphone was launched on February 11, 2020. The phone comes with a 6.20-inch touchscreen display with a resolution of 1440×3200 pixels and an aspect ratio of 20:9. Samsung Galaxy S20 is powered by a 2GHz octa-core Samsung Exynos 990 processor that features 2 cores clocked at 2.73GHz, 2 cores clocked at 2.5GHz and 4 cores clocked at 2GHz.
As per new developments, Samsung Galaxy S20 smartphones have started receiving the Android 11-based One UI 3.0 update. And it is troubling users, so as to what it seems, after updating it to android 11 ,it is leading to Instagram to crash. Several users are reporting (via Reddit) that the Instagram app on their phone is crashing every time the app is opened. Users reported that the app is crashing within a few seconds after opening the app. Have a look at some screenshots down below which confirms the same: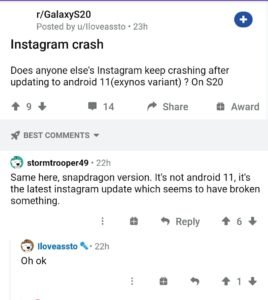 What is causing the app to crash?
It is too early to figure out what the reason could be behind the crash. Even Instagram (or Facebook) has not acknowledged such an issue is impacting people. But the impact is clearly seen on Android phones as iOS users have no such issues.
How to fix this crash?
Clearing the cache and data.
 Update the app from the Play Store/App Store.
Force shut the app and restart it.
Uninstall and reinstall the app.
Use the web version of Instagram.
Samsung developers have currently not addressed this issue yet, but we are keeping a close watch on this matter & will update you with more information or fix whenever it arrives.

Has your Instagram app been crashing? What phone model are you using? Let us know in the comments below!