Samsung is a South Korean tech pioneer that has been successful in producing electronic devices since 1990. The company currently ranks in 6th place in the order of the highest brand value. The device is known for its high-end premium, flagship mobiles and is currently the rival of iPhone and OnePlus. Samsung was famous when all that we had were a bunch of buttons on a soap-like structure and now time-lapse to present, it is still famously known but for the best and very innovative smartphones and smart devices.
Samsung Galaxy Note 9 was a revolutionary device launch for both the brand as well as the mobile market. The device is one of those designs that set bars for other devices to launch mobiles with full-screen displays and sleek looking devices.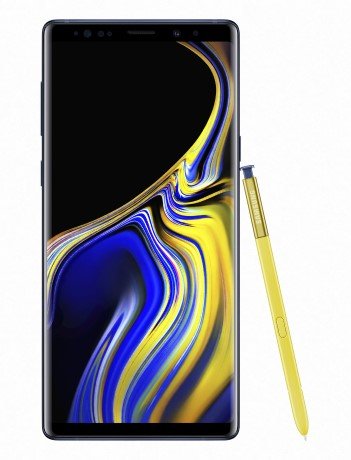 Samsung Galaxy Note 9 Specifications:
| | |
| --- | --- |
| Display | 6.40-inches (1140 x 2960 pixels) |
| Processor | Qualcomm SDM845 Snapdragon 845 (10 nm) |
| RAM | 6 GB/ 8 GB RAM |
| Internal Storage | 128GB/ 512GB |
| Front Camera | 8MP + 2MP |
| Rear Camera | 12MP + 12MP |
| Software | Android 8.1 (upgradable to Android 10) |
| Battery | 4000mAh |
Samsung Galaxy Note 9 is famously known for its massive storage space and dedicated camera for an iris scan, which was not common among other devices. The rear end of the device is equipped with a dual-camera where 12MP is the primary sensor and wide photo capture and another 12MP camera for depth and telephoto. The front camera is a dual set-up too where 8MP is the primary sensor and as mentioned before, 2MP provided as a dedicated iris scanner.
The device is powered by an octa-core, Snapdragon 845 processor that is undoubtedly the smoothest you can expect in any mobile. The device is available in two variants- one with 6GB RAM 128GB ROM and another with 8GB RAM and 512GB ROM. Both the variants combined with the processor has claimed itself to be one of the fastest and best mobiles in-game.
On January 29, 2020, the official Android 10 update started rolling out for Samsung Galaxy Note 9. Though not all the countries have received the update, you can expect the arrival of a pop-up message regarding the Android 10 anytime soon!
To enhance the quality of the photos you click in Samsung Galaxy Note 9, installing Google Camera 7.3 APK (g-cam 7.3) is a suggestible way. You can directly install it using the link given below and follow the instructions to make things simpler.
How to install Google Camera (Gcam 7.3) on Samsung Galaxy Note 9?
GCam for Samsung Galaxy Note 9
STEP 1 –
First of all, you need to download the working Google Camera APK for Samsung Galaxy Note 9. You can download it from the link given below.
DOWNLOAD NOW – Gcam 7.3
STEP 2 –
After downloading the APK, install it like any other third-party app.
STEP 3 –
After installing the Gcam on Samsung Galaxy Note 9, open the Google Camera app.
STEP 4 –
Follow these steps after opening the app for the first time. These steps will make sure that your app is working correctly.
Click on More Option
Open Camera Settings
Open BSG MOD settings.
Input Model
Change -Interface Style – Pixel 2
Configurations- PIXEL2018 ZSLR HDR+
Go back – Enable Google Photos
Disable Zoom (Preferably)
Enable HDR+ Enhanced in Portrait Mode
Open Saturation
Highlight Saturation -1.8
Shadow Saturation – 2.4 (For REAR camera)
Restart the app again.
Note: If the above Gam version doesn't work properly on the device, try downloading older versions of the Gcam APK from the link given below.
Older Versions: Gcam 6.3
---
Note: Gcam apks might not work on the Exynos variants of Note 9.
---
These are all that you need to follow to get yourself the tag of clicking the best photos that one can ever dream of capturing. Thank you for reading. If you face any problem regarding the download of GCam APK in Samsung Galaxy Note 9, please let us know in the comments section below.