Android is an Open-Source operating system. Due to this, the chances of an Android phone getting hacked are very high, because all the required android libraries are available publicly. To deal with this, Samsung has developed a mobile security solution called Samsung Knox. It helps you protect your business files or personal files, without any third-party apps. Samsung also introduced a Secure Folder app and Good Lock app to make your device secure and eye-appealing at the same time.
But now, Samsung Galaxy M51 users are facing an issue where they are unable to install Secure Folder & Good Lock to their devices. When the users are trying to install the Secure Folder app, they get a message which says, "Can't install Secure Folder, try again, and if it still doesn't work, see common ways to fix the problem". Whereas, while installing the Good Lock app they get an error message saying, "The content isn't compatible with your phone".
Some screenshots are added below to explain the problem.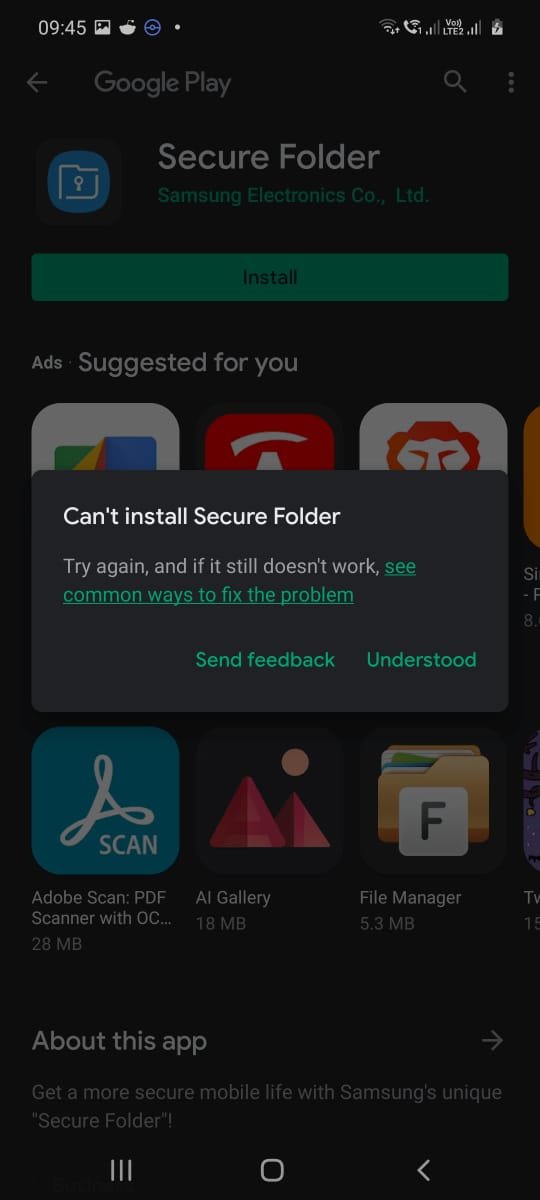 The device in the above screenshots is a Samsung Galaxy M51 running on Android 10 with OneUI 2.1.
A Secure Folder is an official app in which you can store all the photos, videos, files, apps, and data that you want to keep private. This place is guarded by Samsung's Knox security platform to ensure that the data you keep here is kept safe from any malicious attacks. You can also add a passcode or biometric lock to create a more secure environment.
A Good Lock is an app where you can see many customization options which include changing themes changing, UI tweaking, and more. In the Good Lock app, you can see various options such as QuickStar – to customize quick panel, TaskChanger – redesigned Task Changer App, NotiStar – to customize notification panel, MultiStar – to give you a smooth multiple window experience, and much more.
As of now, Samsung hasn't made any official announcement regarding this issue. But, as soon as an official statement arrives, we will let you know, so stay tuned! And, follow Digistatement to get new updates as soon as we publish them.