It's almost been quite some time since AMD brought its latest Ryzen 4000 series mobile chipsets. These processors have been breaking records and beating many of Intel's chipsets in the showdown. There was a time not many of us chose AMD notebooks over the Intel's variant. Well, things are changing now, all thanks to the powerful Ryzen 4000 cards. Now, we have a bunch of new AMD laptops in the market available with the latest Ryzen processors. What's even more interesting is that even gaming laptops are using these chipsets and providing great performance at a more compact form factor.
However, there were no signs of any Chromebook with the latest Ryzen chipsets until now. Well, now we have something interesting, coming in front of us.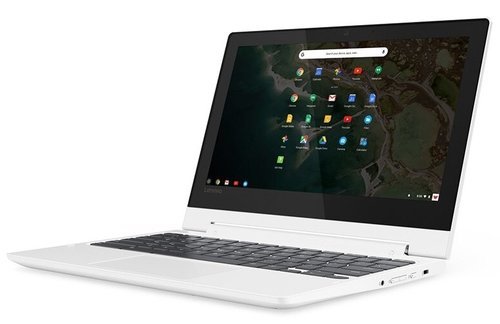 New Ryzen powered Lenovo Chromebook is here!!
In case you don't know, a Chromebook is nothing but a notebook or laptop with Google's Chrome OS as its operating system. Hence the name, Chromebook. Now we have come across an all-new Chromebook from Lenovo. Well, it's not just any other Chromebook out there. It is indeed the first Chromebook with the Ryzen series chipset.
The leaks don't just come from some tipster but from AMD itself. Yes, you heard it. AMD has leaked this brand new Lenovo Chromebook on its official website. The Chromebook is present in the listings under the Shop AMD powered laptops section of the website. It clearly mentions the specs of the Chromebook along with the AMD Ryzen 5 PRO 3500U mobile chipset. This is going to power this latest Chromebook by Lenovo. There has still not been any official thing by Lenovo.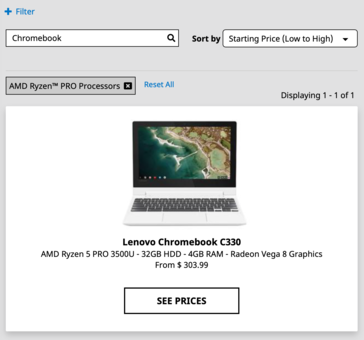 There have been rumors for the past couple of weeks about the upcoming Ryzen powered Chromebooks. Well, now AMD itself has confirmed it accidentally. A few days back, a Ryzen powered 2-in-1 Pixelbook was spotted in Geekbench. However, there is nothing else other than that so far. This perhaps makes Lenovo the first OEM to have a Ryzen powered Chromebook. However, there are a few confusions budding up. The fact that the Chromebook is priced at $303.99 USD seems to be a mistake by AMD. Or maybe not!
Considering the price, it seems AMD has made a mistake. The pricing for Lenovo Chromebook C330 might be after all for the variant with the Mediatek 8173C chipset. A Lenovo Chromebook C330 came into being a while ago with the Mediatek chipset. Remember that Lenovo also brought an 11 inch Lenovo Chromebook C430. Lenovo has just refreshed the Chromebook C330 with an 11-inch screen and a Ryzen chipset. How about that?
Lenovo Chromebook C330 Specs:
AMD has leaked all the specs of the Lenovo C330 Chromebook on its website. This variant comes with a Ryzen 5 PRO 3500U mobile chipset. It further comes with 4 GB of RAM and 32 GB HDD. It flaunts an 11.6-inch display. Talking about the processor, it comes with a total of 12 compute cores including 4 CPU cores and 8 GPU cores. You can check all the specs from the image given below. This is the image from the listings on the official AMD website.
The Chromebook is officially available for purchase through AMD's website. It costs $303.99 dollars. So, if you want to get your hands on this first Ryzen powered Chromebook by Lenovo, go grab it.
Stay tuned for further updates on the Lenovo C330 Chromebook and more such related content. Also, share this article with all those people who always wanted to have a Ryzen Chromebook.