If every new day brings to you news from NVIDIA stand, it is normal. If you believe the Ampere generation of GPUs has put NVIDIA on an even higher pedestal, then you're right. The GeForce RTX 3090 and its younger siblings have, like the new kid on the block, attracted all the attention. But, are we forgetting someone? Not that AMD cares if we write about them or not. But hey, they have been a forgotten case over the past week. At least, almost. Worry not people, because we fished out some news about AMD concerning their new architectures. The Cezanne and Lucienne are predicted to make appearances on the AMD Ryzen 5000U series. 
AMD Ryzen 5000U CPUs to be fueled by Cezanne and Lucienne 
AMD is expected to divide its Ryzen 5000U in variants which will either sport Cezanne or the Lucienne architecture. There is enough available to claim that both these Zen3 and Zen2 will feature alternatively in Ryzen 5000U series. To give you more clarity, think of it as Ryzen 7 5800U using the Zen3 design. Ryzen 7 5700U would however be complemented by Zen2. Sounds a little wayward, yes. We therefore suggest you to keep tracing further developments with the Cezanne and Lucienne, this isn't remotely the final word. A moment's silence in absolute praise of the person who's at the helm of this codenaming at AMD.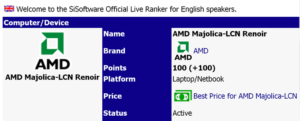 Not long ago, Lucienne had made headlines deemed as the revamp version of Renoir. Igor Labs had earlier revealed that Lucienne was a Google dedicated APU. Even though a revamp, the Lucienne is set to borrow its core architecture from Renoir. AMD sure has had unique, sometimes weird ways of hinting at new arrivals. Remember their teasing of Radeon RX 6000 via the game Fortnite? It does seem fitting to wait for more on the Cezanne and Lucienne from AMD's side.