With the rise of internet usage and accessibility across the globe, the source of entertainment is multiplying. Years ago, YouTube was one of the most popular and among the few existing platforms hosting videos. But currently, each genre has a platform with a bunch of audiences waiting for such content. From short vines to podcasts, from movies to shows to anime, entertaining the one sitting behind the screen is everything. App developers have been targeting video sharing platforms for long. Several digital applications give users immense pleasure and relaxation via comedy, podcasts, and many more video genres.
One such application is Rooster Teeth- initially a production company posting content on site from where users could stream various videos. The mobile version of the app seems to have gotten into trouble and therefore, here we are with an article about it!
Rooster Teeth Details-
Rooster Teeth started with Red vs Blue in 2003. It is a web series that is still running and under production. No one thought this series would go on to be the second longest-running web series of all time. So, this series gave Rooster Teeth an identity. Currently, Rooster Teeth hosted 11 active channels and numerous web series. they are immensely famous online for the content they post very regularly.
This is the ultimate destination for content hunters and entertainment seekers. The site includes channels, series and episodes, podcasts, gaming, and live stream. Also, Rooster Teeth has been extending its universe by publishing blogs as well. The app as well as the online site- both had a huge fan base with regular streamers. Though the site works perfectly all right, the app is nowhere in the right phase presently.
Rooster Teeth App not available on Play Store anymore
Redditors took to fill the web with shock and anxious messages regarding the Rooster Teeth. The very famous mobile application, Rooster Teeth is no longer available on Play Store. This information has been cross-checked with various sources and indeed has vanished. As you can see in the screenshot below, the official app isn't found on any mobile Play Store platform.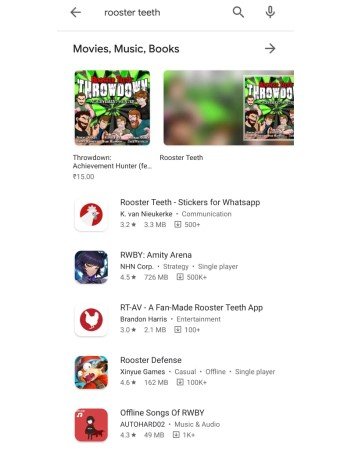 Following that, the app was looked for on PCs too. The site itself promotes the app on the very Menu of Rooster Teeth website. The link doesn't work any longer. Clicking on the Play Store links will redirect you to a page that will show an error. Below that, you will find a search bar of the Play Store, conveying to look for other apps. Refer to the image given below.
The image of one of the highlighted Reddit post is given below. Some users found out because they were waiting for an update that would fix bugs in the Rooster Teeth app. But looking for the updates only led them to find out that the app is no longer out there on Play Store for downloading.
Already downloaded Rooster Teeth App is working fine
If you wonder if the app has been closed or dismissed, the answer is no. Some users also posted that they were fortunate enough to download the Rooster Teeth app before it went off Play Store. So those who already have the app downloaded and installed in their mobile phones can still stream videos and enjoy the content out there.
A possible reason why Rooster Teeth App is removed from Play Store-
With the chaos and pandemic out there, Google strongly imposed a note to all the app developers. Apps that post or pass any reference or details regarding COVID-19 without the consent of authorities are not encouraged by Google. Therefore, witness the very popular Podcast Addicts App being removed from Play Store. With several live streaming content posted and conducted on Rooster Teeth; a COVID-19 reference let out is probably why Google has imposed this strong act on the app on Play Store.
But it is only fair on either end to wait for the officials to confirm why the app is no longer available on Play Store. Rest assured, we will update this article if we receive further information about Rooster Teeth App, so stay tuned. Also, share this article with all those who were looking for the app!