We heard that you wanted the most-up-to-date list on simulator codes for Roblox supernatural. Here we are complying to that request with this list which will be all you will ever need. You can redeem these codes for coins and rubies. This will also provide you with a massive boost at the start of the game to upgrading you characters like vampires, witches or those werewolves.
How do you Redeem Codes for Supernatural Simulator
Redeeming codes in Supernatural Simulator is a simple process! Look for the Twitter logo at the bottom of the screen, go ahead and hit that button and you will get the following pop-up: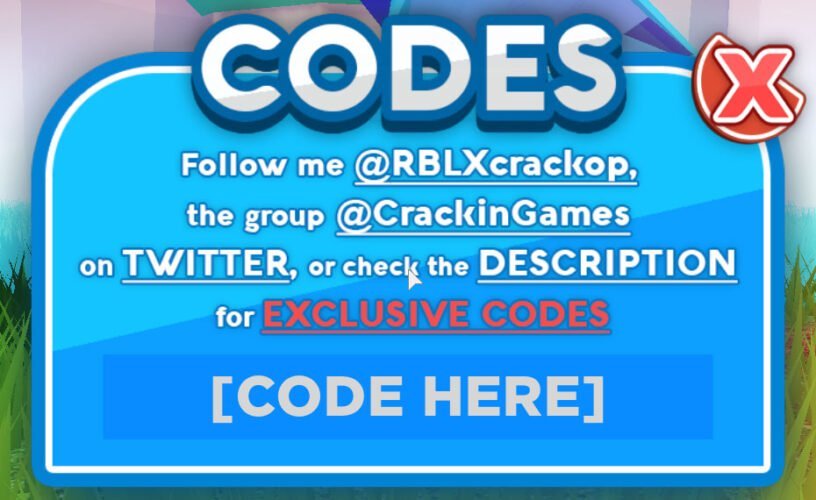 Click on the "[CODE HERE]" and input one of the codes from below. Once you've got it entered it correctly, you'll just need to hit the Enter key and you will be given the reward!
Code List
Here are all the currently available codes in Supernatural Simulator. And we will add more with updates if there any more upcoming. So check out this post frequently.
NEW – Redeem this code for 1,000 Rubies: Oofe
NEW – Redeem this code for 100 Coins: FOEKAI
Old- Redeem this code for 100 Coins: CRACKOP
Redeem this code for 1,500 Rubies: TWITTER
You can Redeem this code for 75 Coins: RELEASE
Coins are used for purchasing weapon which helps you clear enemies quicker. This is a massive upgrade for your damage which will help you gain experience faster. Coins can also be used to purchase companies which result in an exponential growth of coins, experience and rubies. You can use the gained rubies to purchase potions. The potions give a boost to your health, speed and power, the boosts last for a short period only.
Supernatural Simulator is available for download on Roblox official website and available on Xbox console. Stay safe and have fun!