Roblox has implemented a unique feature on its Login procedure. So now, players can opt for the Quick Login feature while login in. This will allow players to log in to new devices with ease but also increases the opportunity of scammers to get into other people's accounts. Here's everything you need to know.
Roblox Quick Login Feature- 2021
This new login feature will be available shortly for use. So, what it does is it will generate a code on the screen of an unknown device and that code needs to be entered on your logged-in device if you want to access the account on that device. This removes the hassle of entering your login details every time you want to log in to a new device.
Here is the login page where you're supposed to enter the code. Please note this is not 100% rolled out on the login page. We're getting more info about this. pic.twitter.com/OMa8CKhWLT

— RTC (@Roblox_RTC) February 11, 2021
Roblox Quick Login Feature- How does it work?
To understand this properly, let us take an example-
Suppose you own an LG device in which you have your Roblox account logged in. Now, you bought a new phone, a Samsung device, and need to access your Roblox account on the Samsung device. So, instead of using the traditional login details id-password method, you can easily get access to your account on the Samsung device using Quick login.
So, on the Samsung device, when you click on Quick Login, it will show you a code on the screen. Now, you need to enter this code on your LG device which has your Roblox account logged in.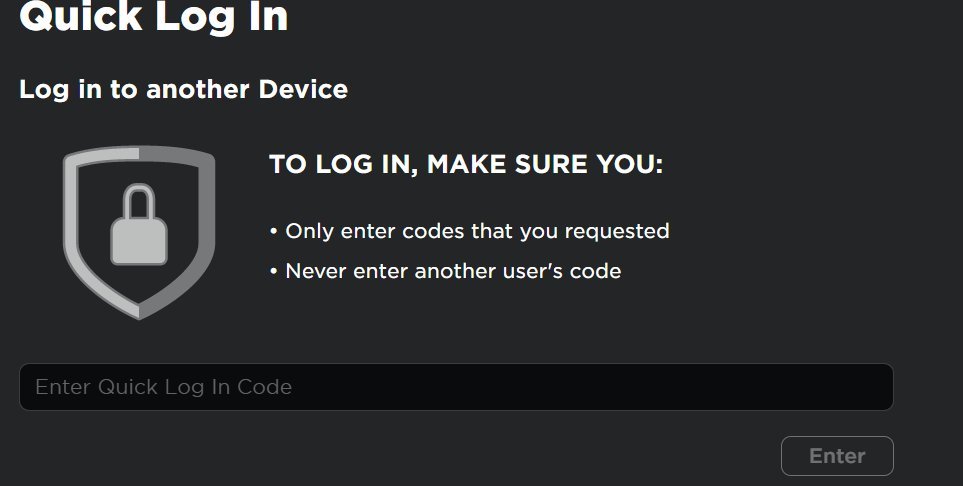 After you've entered that code on your LG device, it will fetch the info of your account to the Samsung device as the code is connected to your Samsung device. Now, a human verification process will be initiated for you to check if you are a real person. Follow the steps and complete the verification process and you will have access to the account on your Samsung device. You can also take a look at this video by YouTuber, Realmistic for more clear understanding :
Well, this feature can come in handy for some but it also comes with a disadvantage. It will create opportunities for scammers to get into different people's accounts easily. Since, Roblox passwords are randomly generated, having a code with just a few characters will be easy for scammers to predict.
The post clearly says- "never enter another user's code" which itself is an indication that the code might be of few characters and can be randomly predicted. So, let's see what the devs do to secure the process.
Note- The information regarding the Quick Login feature is pretty scarce at the moment. Also, there is no information on Roblox's official blog regarding the Quick login addition. We will update you with more information whenever it arrives.