One of the most popular Youtuber, Denis Daily has announced that he is quitting Roblox. Read this blog to find more about the reason behind his farewell to the game.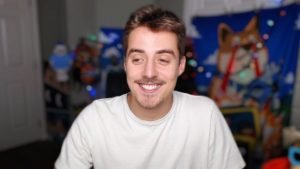 DenisDaily
Denis Kopotun, also known as Denis Daily, is a 24-year-old Canadian Youtuber known for playing Roblox video games. He was born on June 5, 1996, in Edmonton, Canada, and later on, moved to Tennesse, then Winnipeg, then Manitoba, and then finally moved back to Canada. He currently resides in Vancouver, Canada, and is engaged to O'Hara. O'Hara herself is a Canadian citizen. Denis is an easy-going person who is famous for his amazing Roblox gameplay videos.
Originally, Denis started his Youtube gaming journey with a channel called KongoBoom and made interesting Minecraft videos with his childhood friend, Corl. However, after sometime Denis gave up Kongoboom to focus on a new collaborative project called "The Pals" when he met Sketch, Sub, and Alex.
He is one of the most-subscribed Roblox Youtuber. At present, he shares the number 1 most subscribed male Roblox Youtuber tag with GamingwithKev and Flamingo. He was part of the Youtube group called "The Pals" which was disbanded due to a controversy in July 2019. The group included members like Sketch, Corl, Sub, Alex, and himself.
A Break from Youtube
Denis Daily took a break from Youtube in the year 2020 citing he feels burned out due to constantly creating Roblox videos for Youtube.
In December 2021, the Youtuber on Twitter wrote this:
"I can't keep putting a face on anymore. I'm not okay and haven't been okay for a long time. I've stopped myself from ever saying anything because I felt as soon as I do it'd make it real, but it's been real for years and I'm so tired of bottling it up."
"The last thing I wanna be is a mopey YouTuber complaining about their life. I understand how lucky I am which is why I've tried so hard to smile and keep the energy up, but all I want right now is a break. I'm really sorry if I've disappointed some of you, I just need some time."
Why Denis quit Roblox?
In a recently uploaded video on Youtube titled "Where have I been?", Denis announced that he will be quitting making Roblox videos. He stated that the reason behind his decision was that he felt completely burned out. The constant pressure for creating content gave him anxiety.
Denis added that after making thousands of videos, it gradually started making him feel obligated to create new videos and felt that he lost the motivation and drive that he earlier had while creating content for Youtube. He would be now focusing on creating Minecraft Videos. Many Youtubers including KonekoKitten and Parlo supported his decision and wished him good luck for his future journey.